Changing of the CEO-guard
Changing of the CEO-guard Changing of the CEO-guard Changing of the CEO-guard Changing of the CEO-guard Changing of the CEO-guard
In April of 2020, Jean-François van Boxmeer stepped down as CEO of Heineken N.V. During his period in office he has firmly supported the HCF in many ways. Without this support, we would not have been able to realize the Heritage Quarter in 2018. Both the board and team of the HCF have thanked Mr. Van Boxmeer for his ongoing commitment and encouragement.
The HCF would like to welcome Mr. Dolf van den Brink as the new CEO of Heineken NV. We are looking forward to work together to keep on preserving and presenting Heineken's unique heritage for future generations.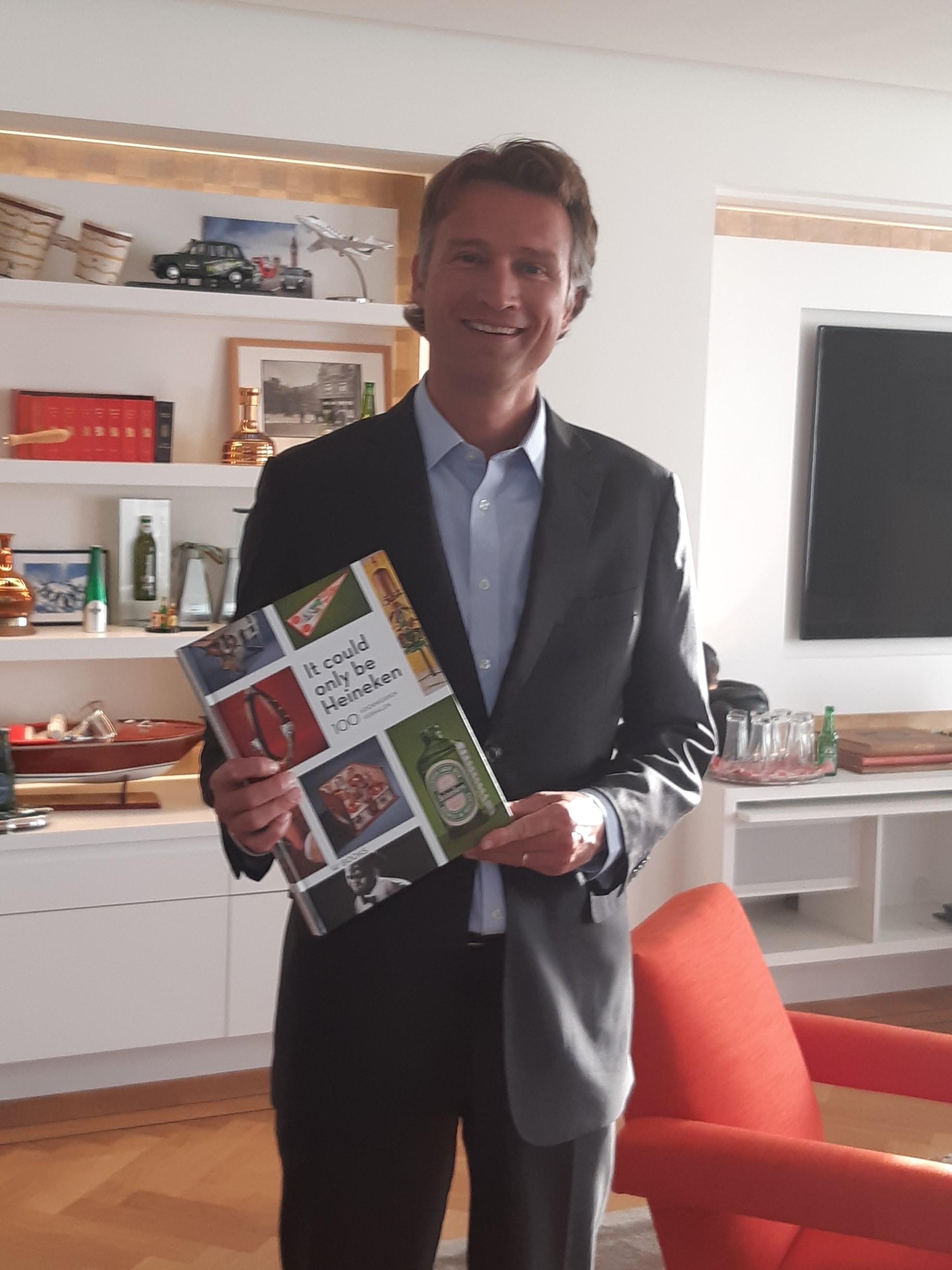 It could only be Heineken
It could only be Heineken It could only be Heineken It could only be Heineken It could only be Heineken It could only be Heineken
Our coffee table book 'It could only be Heineken - 100 Stars, 100 Stories' was published in September 2020. The title refers to a famous tagline of a global Heineken campaign from 2001. The book features precious items, such as a silver commemorative plate and a painting by Nicholaas van der Waay, alongside an old fire hose and a tiny matchbook. All these items bear witness to the history of Heineken as a company, to the historic beer and brewing culture of Amsterdam and Rotterdam and, naturally, to the individuals who populated this remarkable world. Through the objects, we follow the evolution of a small, antiquated city brewery into a modern, international company, with a highly effective combination of ambition, entrepreneurship and imagination as the driving force behind the milestones in Heineken's history.
This book would not have been possible without the efforts of many individuals. The Heineken Collection team made the selection with enthusiasm and deliberation, reviewed the texts and assumed part of the picture editing. José van Rijk coordinated the entire process. Marie Baarspul took on part of the picture editing, and her vivid narrative writing forms the backbone of the book. The creative team consisted of Studio Extra Blond (design), Ronald Smits (photography), Kist&Kilian (translations) and of course our publisher WBooks.
Producing a book in the middle of a pandemic is not without its challenges. Luckily, we were able to finish the major part of the photography - a rather critical component of the book - before the lockdown of March 2020. Consequently, most of the writing, proof reading, editing, translating and designing were done from home.
In September, Mrs. Charlene de Carvalho-Heineken received the very first copy of 'It could only be Heineken'. The book is available in bookstores and the Heineken Experience Store. Already after a few weeks, second editions in English and Dutch were printed.
Also a limited edition was made, especially as year-end gift for the Heineken Executive Board and Executive Team to their external relations.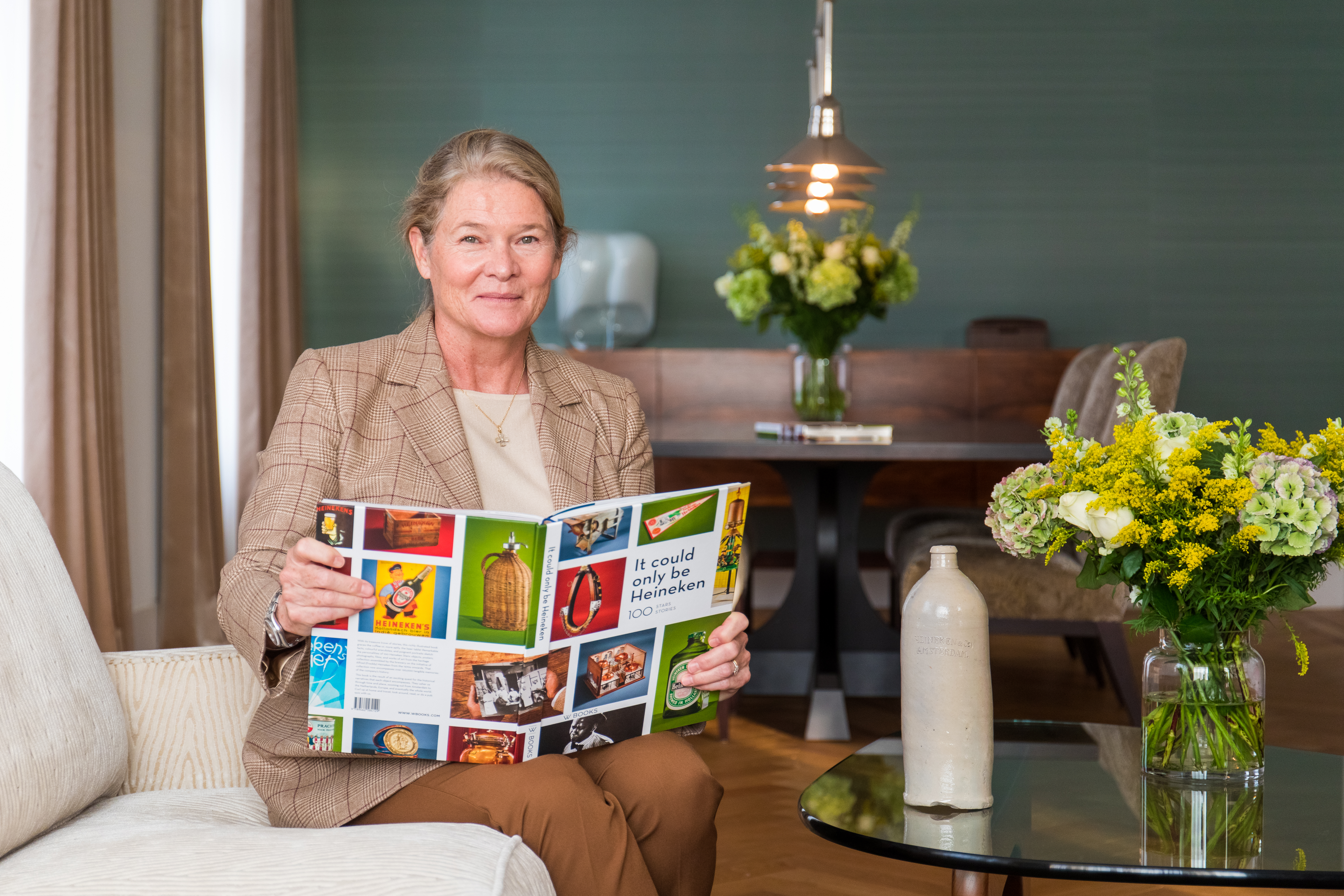 Mrs. Charlene de Carvalho-Heineken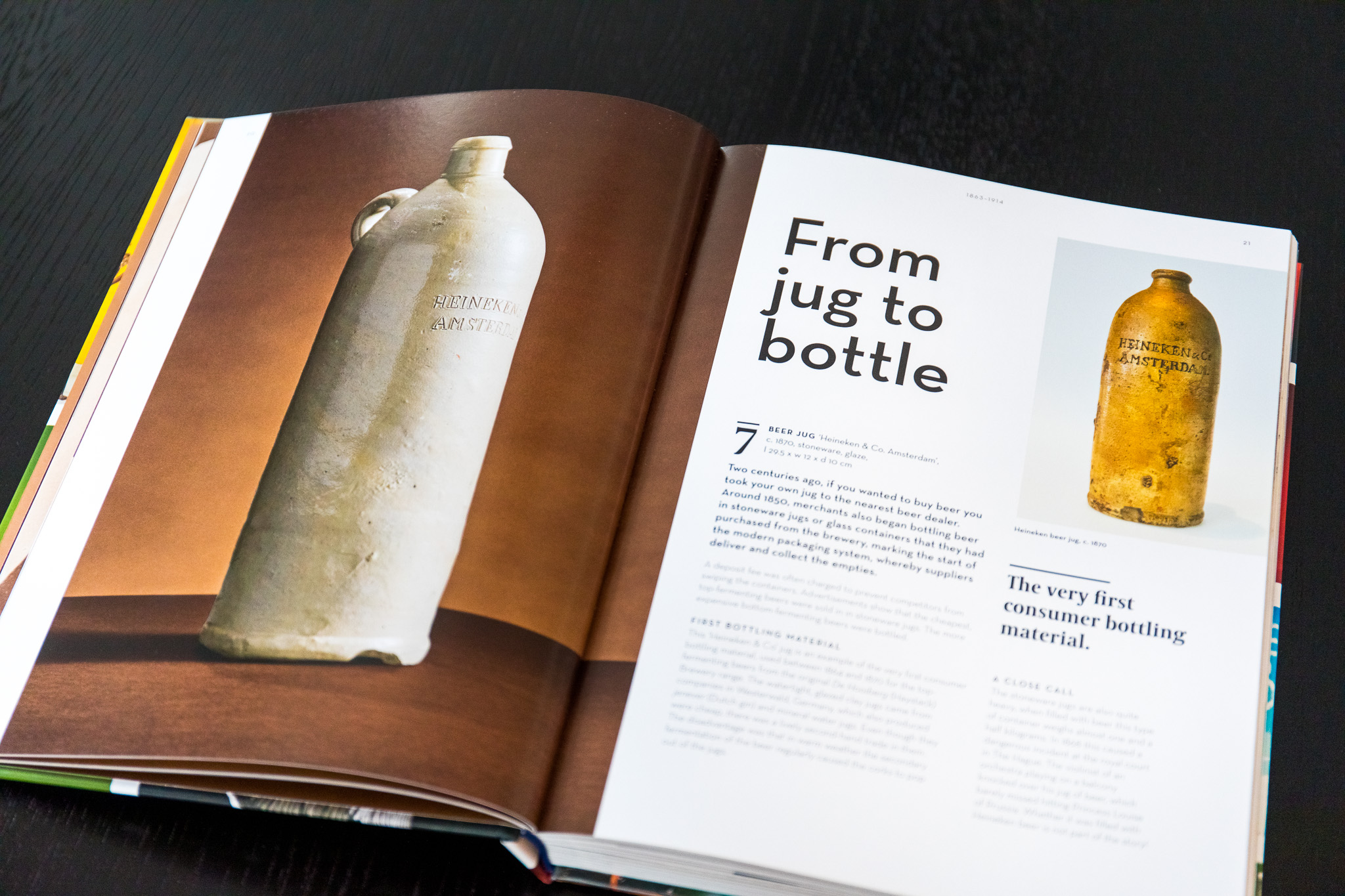 Award
Award Award Award Award Award
Henry's Bar – the hidden VIP bar of the Heritage Quarter – won a prestigious People's Choice Frame Award, in the category 'Bar of the the Year 2019'. Especially the innovative design and the classy combination of history and design were praised during the Award-presentation in 2020.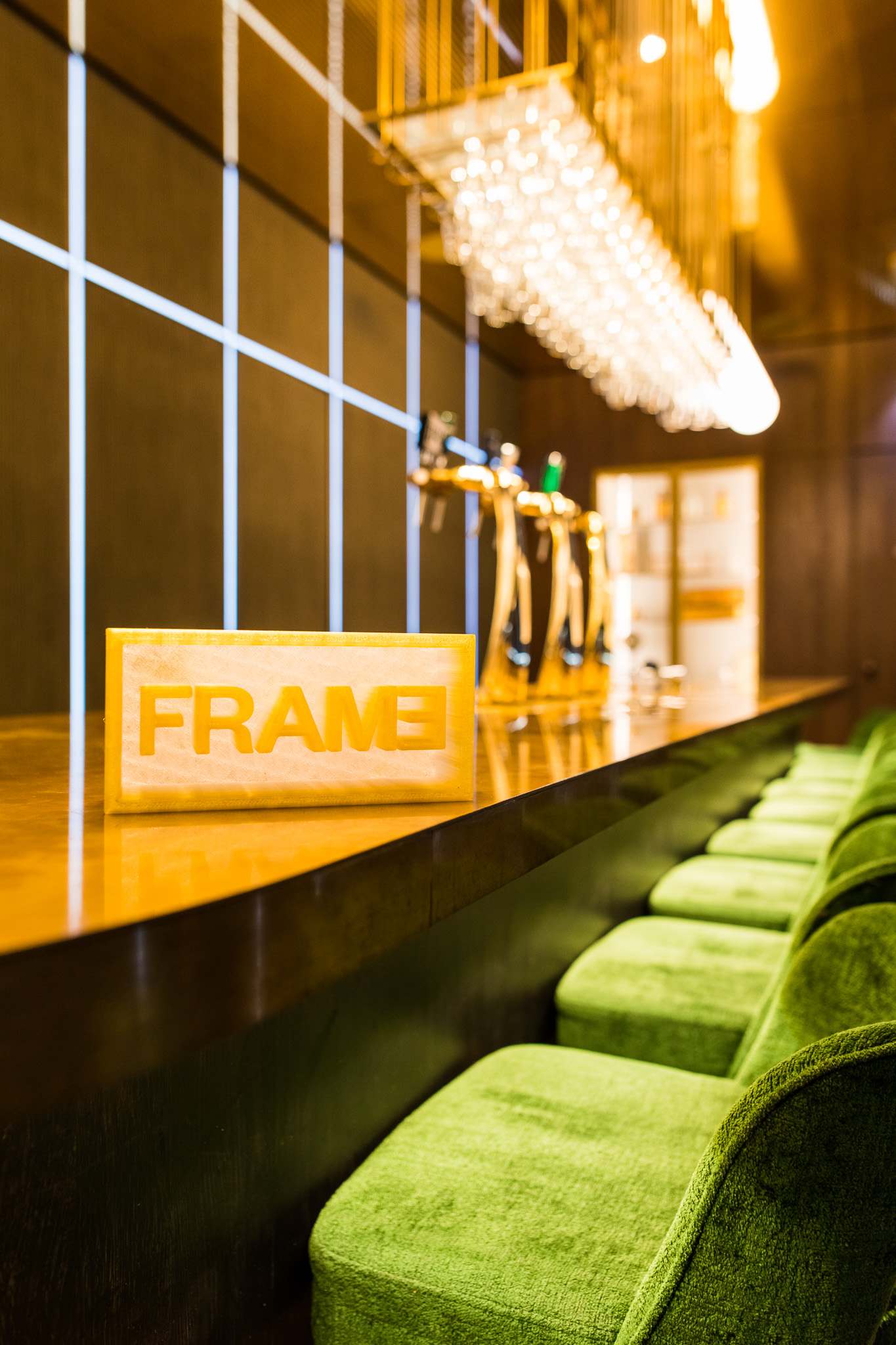 Exhibitions & loans
Exhibitions & loans Exhibitions & loans Exhibitions & loans Exhibitions & loans Exhibitions & loans
After 12 years we welcomed back the eldest artefact of our collection, namely an Egyptian relief. This object was lent to the Brewers of Europe, where it had been on display in their Head Office in Brussels.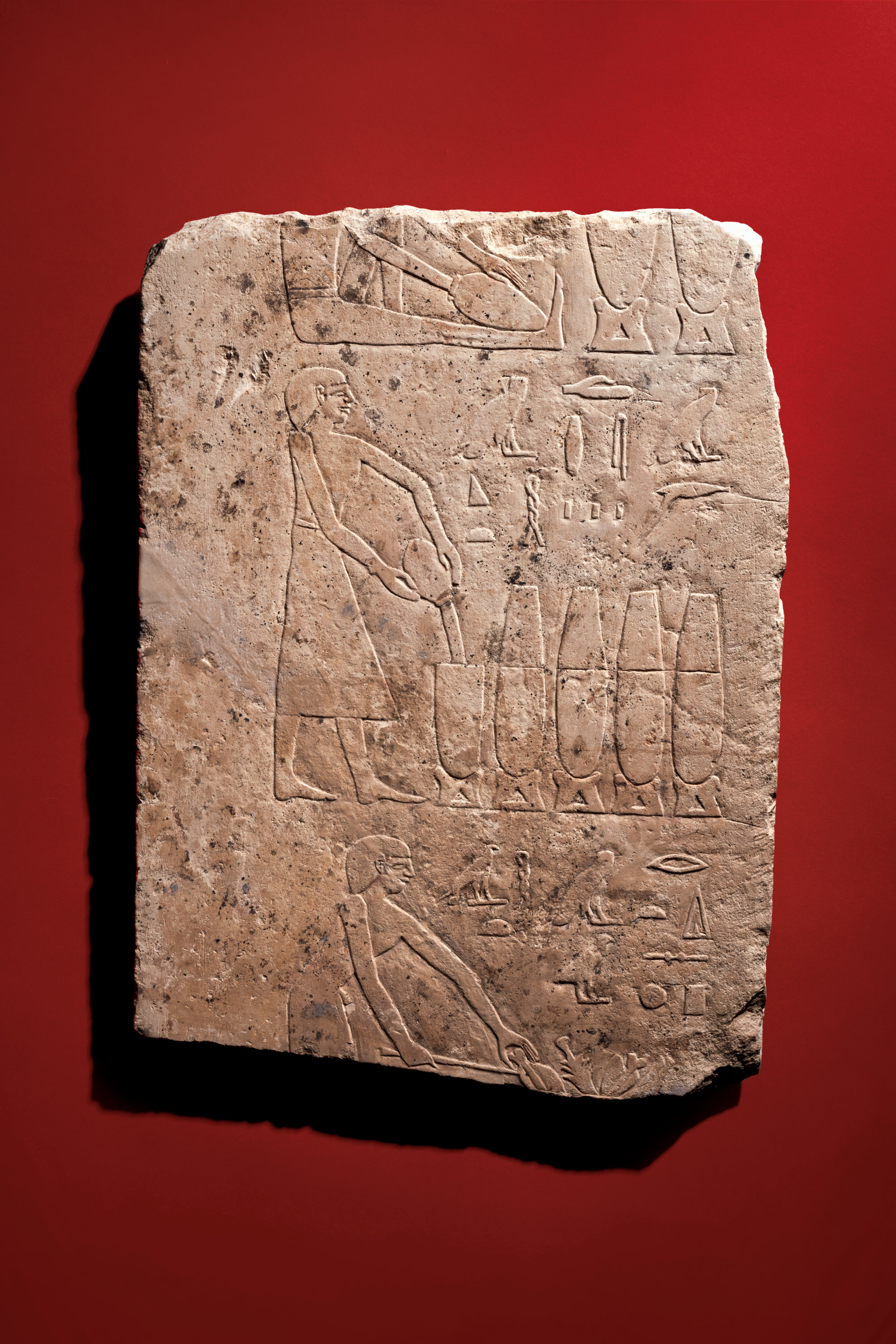 In total 45 objects were lent this year. However, due to the Covid-19-crisis many exhibitions were postponed or cut short. This also affected exhibitions that featured objects from the Heineken Collection. Luckily, most museums were open to visitors during summer. An overview:
No less than 31 objects of the Heineken Collection were on display in the exhibition 'Amsterdam, stad van bier en brouwers' in the Amsterdam Museum (10 July – 1 November 2020).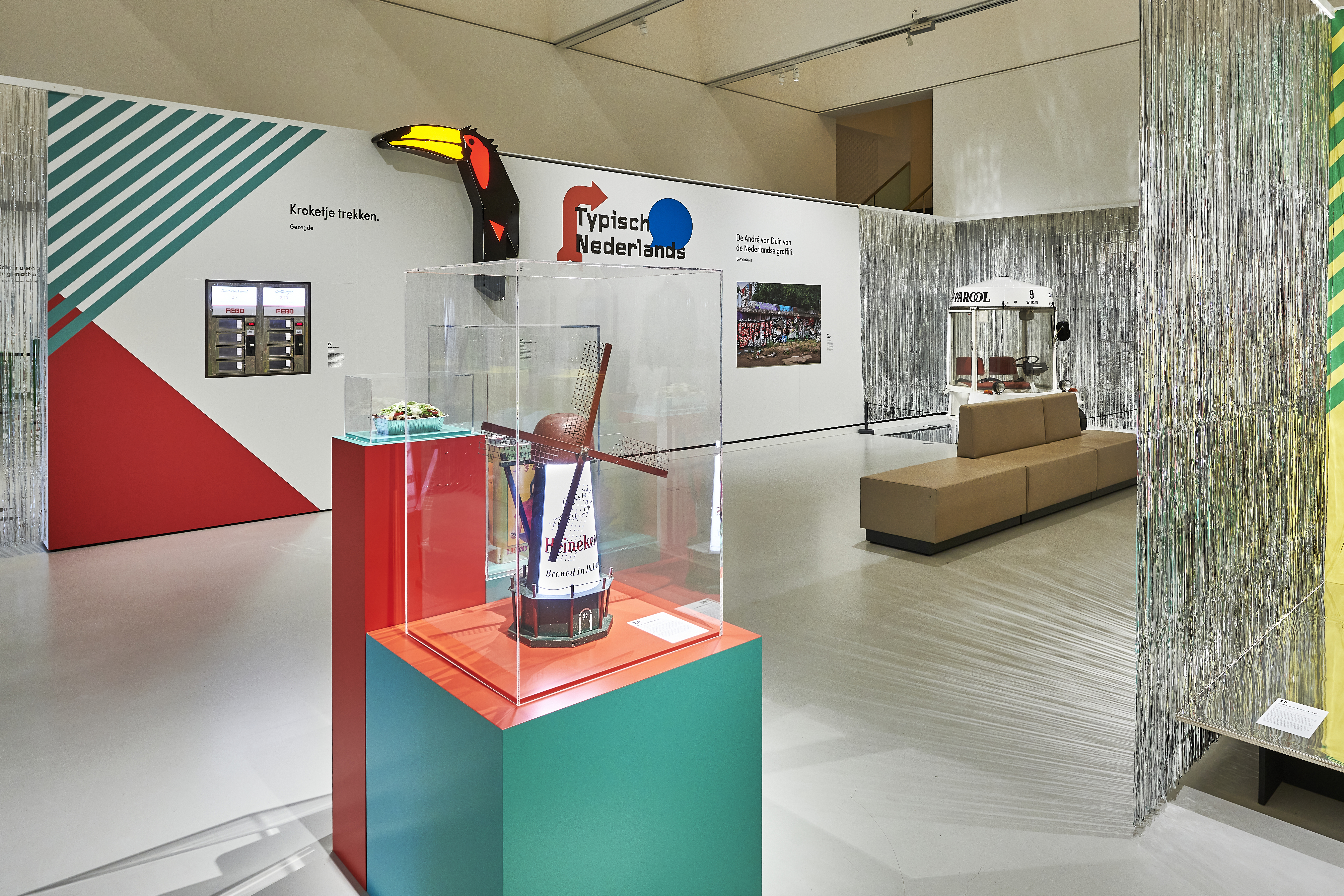 Creditline: Het Noord-Brabants Museum, 's Hertogenbosch / foto: Jan Kees Steenman
A large windmill annex light box of Heineken's USA importer Van Munching was featured in the exhibition 'Asjemenou! De Nederlandse populaire cultuur in 100 voorwerpen' in the Noord-Brabants Museum in 's Hertogenbosch ( 10 October 2020 to 23 January 2021).
Four beer barrels and two spigots were placed on a long-term loan in a new micro museum about the Dokkumer Bonifatiusbier in Dokkum, Friesland (open as of 2021).
Two photo albums made by Dick Monshouwer were lent to the exhibition 'Rotterdam Werkt!' in the Nederlands Fotomuseum in Rotterdam (19 September till 15 December).
The Heineken Collection Foundation donated 120 World Bottles to the Museon in The Hague for a 10 year-exhibition on sustainability and innovation. 
Media
Media Media Media Media Media
De Volkskrant published an extensive article about Amstel's legendary advertising campaign from the 1960s: 'Dit is de man, dit is z'n bier' ('This is the man, this is his beer'). According to the author the best advertising slogan ever. The HCF helped him with his research. The article referenced the publication of 'It could only be Heineken'.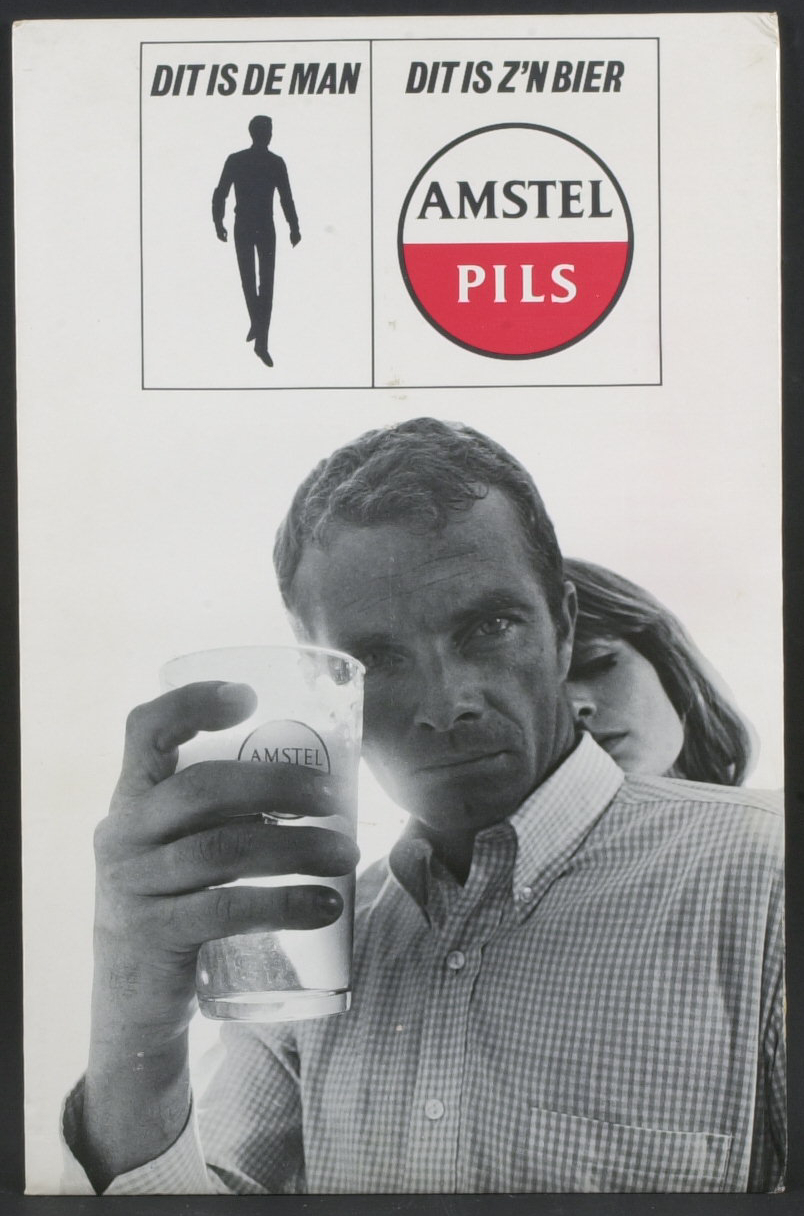 Other articles that mentioned 'It could only be Heineken' were published in Marketing Tribune, Entrée – a platform for hospitality entrepreneurs – and in Packaging Management.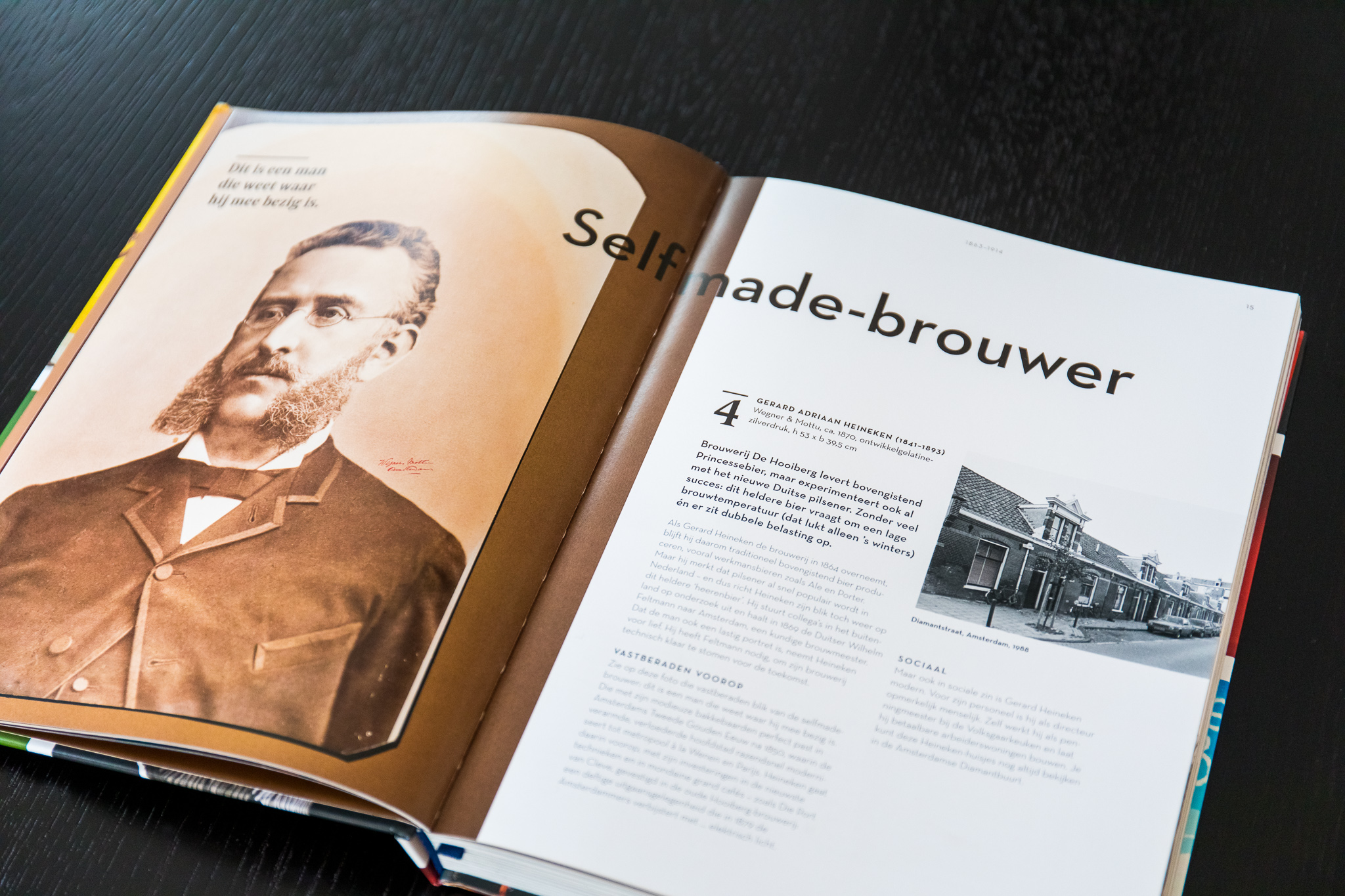 Besides that, the National Health Service approached us to take part in a podcast of book reviews. In November, in addition to several other books, 'It could only be Heineken' was included in this podcast. Maarten Rijkens, chairman of the HCF Board, read the foreword. Copywriter Marie Baarspul read the back flap text and one of the stories.
Maarten Rijkens - Podcast (Dutch spoken)
Talks & lectures
Talks & lectures Talks & lectures Talks & lectures Talks & lectures Talks & lectures
EDUCATION
In February Demelza van der Maas gave a presentation to 'Vereniging Ons Amsterdam' (Association about the history of Amsterdam) about the history of the Heineken company and its historical collections. After that, the members could register for a special tour through the Heineken Experience, including a visit to the Heritage Quarter. We hosted these groups for 3 days in a row.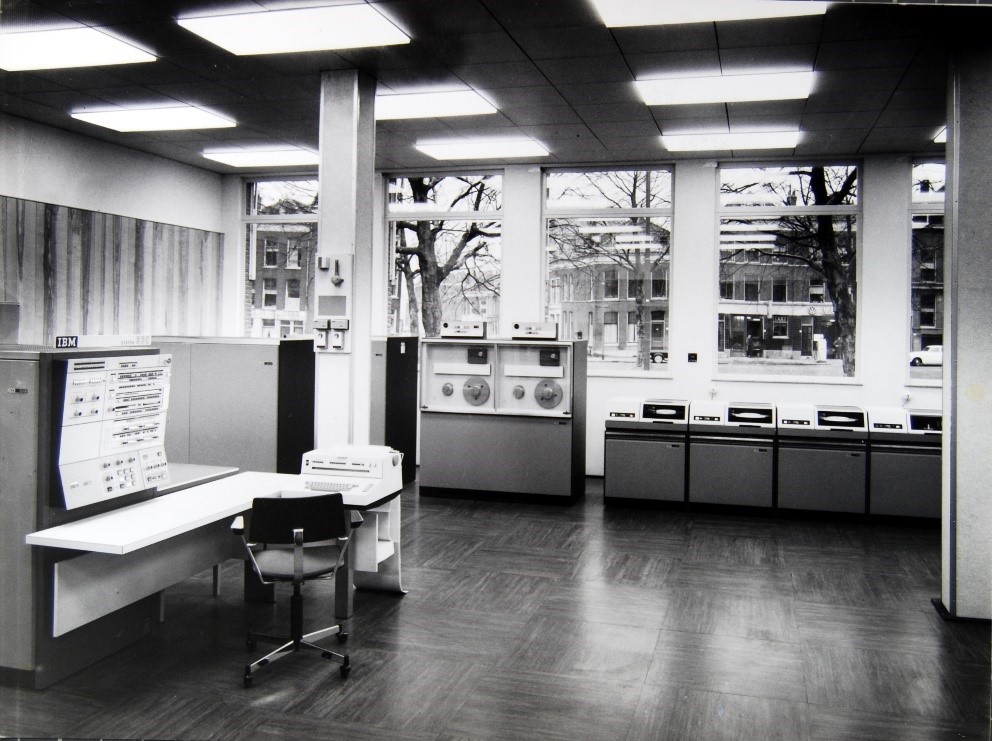 HEINEKEN HEAD OFFICE
For the annual 'Friends of Amstel' workshop, an (online) event for international Amstel brand managers, one of the team members did some research on letters and travel reports of Jacques Peters, one of the export directors of Amstel in the 1950s and 60s. These letters will be used to reconstruct the travel of Peters and to connect to experiences of current Amstel sales people.
Unfortunately, the already planned Learn@Lunch sessions for 2020, in which we immerse Heineken Head Office employees in the rich history of Heineken, were postponed due to the COVID-19 situation.
In October, our digital asset manager presented at a project managers team meeting within Heineken's Digital & Technology department (D&T). He shed light on the history of information technology within Heineken by highlighting the story of the arrival of Heineken's first IBM computer at the 'Rekencentrum' in Rotterdam (see photo).
HEINEKEN EXPERIENCE
The HCF could only repeat one physical session of the Learn@Lunch sessions for the Heineken Experience employees. The session was about 'visual archeology' in which was explained how one can use our photographic collection to tell the right story. The same session was repeated later in the year online as well as another one about the first beer commercial on Dutch television, 'Heerlijk Helder Heineken'.
In January and February, the team hosted basic- and advanced level Heritage Classes for the flex-employees working in the Heineken Experience. During these fully booked classes, these employees got more in-depth knowledge of the Heineken history.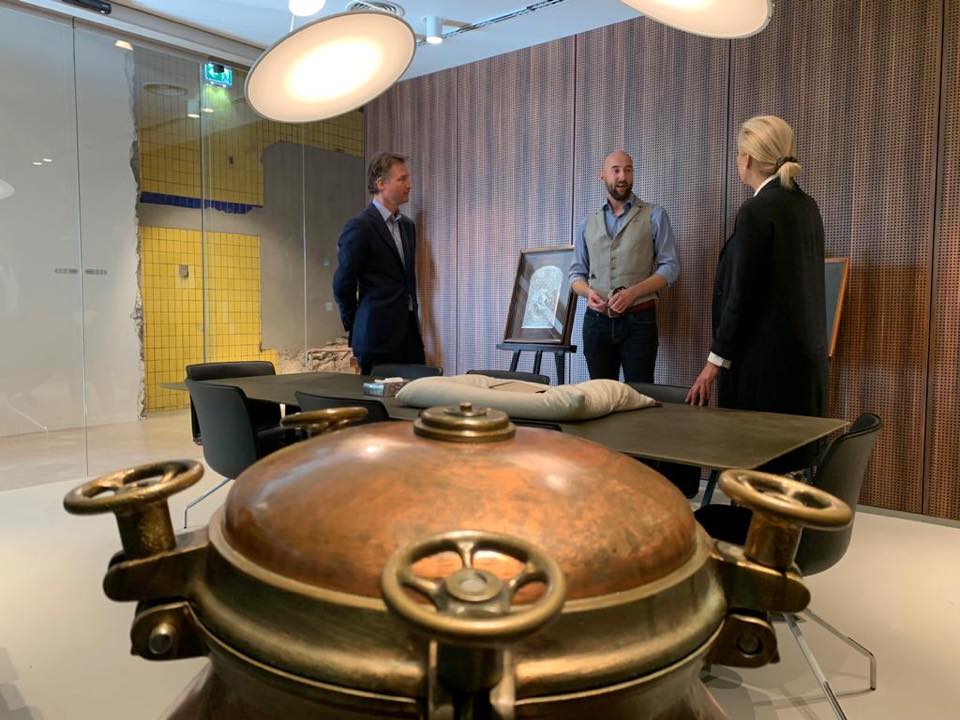 EXTERNAL RELATIONS
Part of the HCF-team paid a visit to the historical collection of Albert Heijn in Zaandam, where they exchanged ideas about corporate heritage collections.
In September, Mrs. Sigrid Kaag (Dutch Minister for Foreign Trade and Development Cooperation) visited the Heritage Quarter together with Mr. Dolf van den Brink (CEO Heineken) and Mrs. Stacey Tank, (Chief Corporate Affairs & Transformation Officer Heineken). Mrs. Kaag has been a diplomat in Jordan, which was reason for us to show her a few objects from that country, which she greatly appreciated.
A week later, the day after 'Prinsjesdag' (day of the King's speech), the General Secretary of King Willem-Alexander paid a visit to the Heritage Quarter.
In September, a delegation from the facilities- and heritage departments of Jacobs Douwe Egberts came to visit for inspiration.
EXTERNAL RELATIONS
The Heineken Collection collaborated with the GeheugenVenster Foundation. This foundation provides unique and customized audio-visual streaming content to nursing homes in The Netherlands, to support people living with dementia and their caregivers. They have developed a special 24-hour streaming service (dementia TV) with dementia friendly content, which brings back memories and reduces stress and anxiety through sensory stimuli, adjusted and tailored to the daily rhythm within the nursing home environment. 
The Heineken Collection has shared a selection of historical animations, photographs and videos from the '50's and '60's with GeheugenVenster for this dementia tv. This footage shows the process of brewing beer, city transport of the wooden beer casks by horse and carriage, the care of these horses, the introduction of bottled beer, local pub life and it includes some iconic Heineken commercials.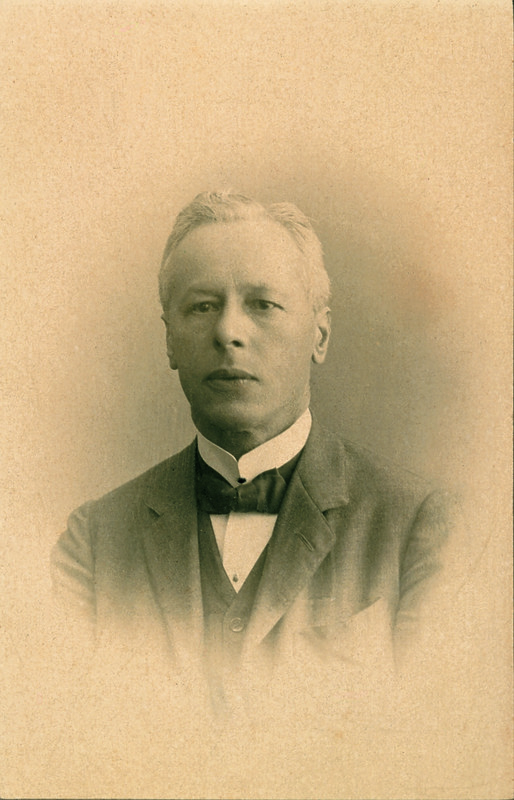 Dr. Hartog Elion
HEINEKEN COLLECTION INBOX
Through the Heineken Collection website and contact form, we receive all sorts of questions about Heineken and other Heineken-owned brands. Next to requests for images from our website and Heineken fans that want to buy merchandise, we receive questions about the value of specific historical objects. As a principle, we do not share estimates. However, we are more than willing to help if consumers are looking for historical information about their objects. Some fun examples:
We helped Dr. Hartog Elion's great-great-grandson find some details from Dr. Elion's professional history in our archives. As a favour, we received some family pictures for our catalogue.
Several people were looking for more information about Heineken-related treasures they uncovered at remarkable sites like the dunes, a crawling space underneath a house, in the walls and along train tracks. These treasures varied from Heineken cans to bottles.
We tracked down a family member of a gamekeeper at the Brand Brewery in the 1960s for workgroup Ubachsbergen. Coincidentally, we had been in touch with the gamekeepers' daughter a year earlier, because he featured on a Brand poster in our collection.
We have also been in touch with some private Heineken and Amstel collectors. These contacts are valuable to us, because they help us to stay informed about what is happening on the market.
Audiovisual
Audiovisual Audiovisual Audiovisual Audiovisual Audiovisual
167 new unique titles and 198 new objects (files, tapes, films) were added to our database TMS.
These titles consist of back log work (films, mostly digital, that were in the collection before but not registered yet) and completely new titles. Because of Covid-19, people all over the Heineken world started making films to share their community relief initiatives and to show what work had become like during the pandemic. Heineken Netherlands started producing a new series called "Helden van Heineken" in which colleagues showed their home office and shared how they now spent their days.
Next to that, new Heineken commercial campaigns were produced during and about the lockdown. They have become part of our collection.
In September, Mélanie van der Hoorn visited the Heritage Quarter. She is a freelance researcher of architecture. She has written a book about architectural films of the past 30 years and she is now zooming in on films by architect Jaap Bakema. Bakema's film 'Brouwerij in wording' (1973) is part of the Heineken Collection and she was interested to see and use it for an exhibition she is planning in 2022-'23. In 2021, she will publish some articles about his films as a preparation for that exhibition.
Audiovisual images were given to: 'Beeld & Geluid' (Institute for Sound and Vision), for a new video wall in their new exhibition; several Publicis offices for internal films; Heineken Netherlands ('s Hertogenbosch) and Heineken International (Corporate Affairs Europe) to use in presentations on the future and past of Heineken.
Digital
Digital Digital Digital Digital Digital
DIGITAL INFRASTRUCTURE
In 2020, the HCF consolidated the infrastructure we built in 2017/2018. The digital high-resolution files are stored in a cloud based DAM (Digital Asset Management) system and the physical collection is registered in TMS (The Museum System). The data from both systems are exported through an API (Application Programming Interface). They are combined into one searchable index and used as the basis for the image bank of our website.
In August 2020, the functionality of making a personal profile on the website was added. Users can save their selection and select several or all items to request a high-resolution download. We do not grant users unlimited access to our high-resolution files. Some images might have copy- or usage rights restrictions. In order to approve a request, we always want to know what the purpose is. This approval request is automatically generated and sent to the Heineken Collection email address. One of the staff members can access the selection in a special part of our website and approve the entire selection at once or make a selection. After approval, the user will get a download link to retrieve the items. This additional functionality and new workflow creates a more efficient way of managing requests.
In 2020, the first online version of our annual report was published on the HCF website. This online version of the annual report is more dynamic and sustainable. It allows us to show moving images or more images of one item and creates another type of experience. As of 2021, we will only publish an online annual report.
As part of the new budget plans, we had to move the website to a hosting platform contracted by Heineken. This proved to be a more complicated project than anticipated and the switch to a new live environment on Heineken's hosting platform is projected for the beginning of 2021.
BEHIND THE STAR
Four new episodes of the Behind the Star World Tour – an ongoing series of videos about the history of Heineken were produced with the collection manager. This season takes viewers around the globe to get to know more of Heineken's brands. Unfortunately, these videos were not published due to COVID 19.
WORKPLACE
During the first lockdown, we introduced #StayatHomewithHeinekenCollection, a series of Workplace posts with collection items that encouraged staying at home with a Heineken.
Right after the publication the Heineken Collection book 'It could only be Heineken' (subtitle: 100 stars, 100 stories) was offered on Workplace to all Heineken colleagues for a special price.