A robust, future proof and sustainable collection management strategy is key to bring this mission to life. After all, if we do not take proper care of our objects, there will be no stories left to tell.
Inventory, documentation & conservation is our core business
Inventory, documentation & conservation is our core business Inventory, documentation & conservation is our core business Inventory, documentation & conservation is our core business Inventory, documentation & conservation is our core business Inventory, documentation & conservation is our core business
Depot re-organisation
At the beginning of 2022, the team kept busy with the reorganisation of our depot, which was completed in May. Prior to this, in January, we also had to clear out our exhibition due to construction work that needed to be done in the ceiling of the Heritage Quarter. We took this opportiunity to deep clean everything before placing things back, and made some minor changes and improvements to the exhibition. This exercise demonstrated that with proper planning, we can disassemble and rebuild everything in a relatively short amount of time.
Registration of acquisitions and collection backlog
The Zoeterwoude office of HEINEKEN is now mostly empty, so we have been visiting it to secure collection items and previously undiscovered objects, which will become a part of our collection. The final batch of collected objects will be stored in our on-site art storage room in the beginning of 2023 and from there transported to our Amsterdam depot.
We received a substantial amount of objects due to colleagues cleaning their offices during and shortly after the pandemic. This has resulted in 1,375 registered objects, with an additional 375 objects registered since reaching the 1000 milestone on October 17th. These are mostly new acquisitions to our collection.
We received over 200 bottles and cans from the Global Amstel team, along with other merchandise materials, which is a very welcome addition to our Amstel collection. The last 5-10 years of (international) Amstel products are now gradually becoming a part of our collection.
Design firm Zeeman and Beemster donated approximately 250 items, including many models of Amstel and HEINEKEN beer cans. A second large donation of about 60 objects included mainly archive pieces and objects related to HEINEKEN brand design.
We resumed inviting collectors who donate materials, and offer them tours of our depot and exhibition. This mutually beneficial arrangement has been working well, and we are pleased to be able to invite people once again.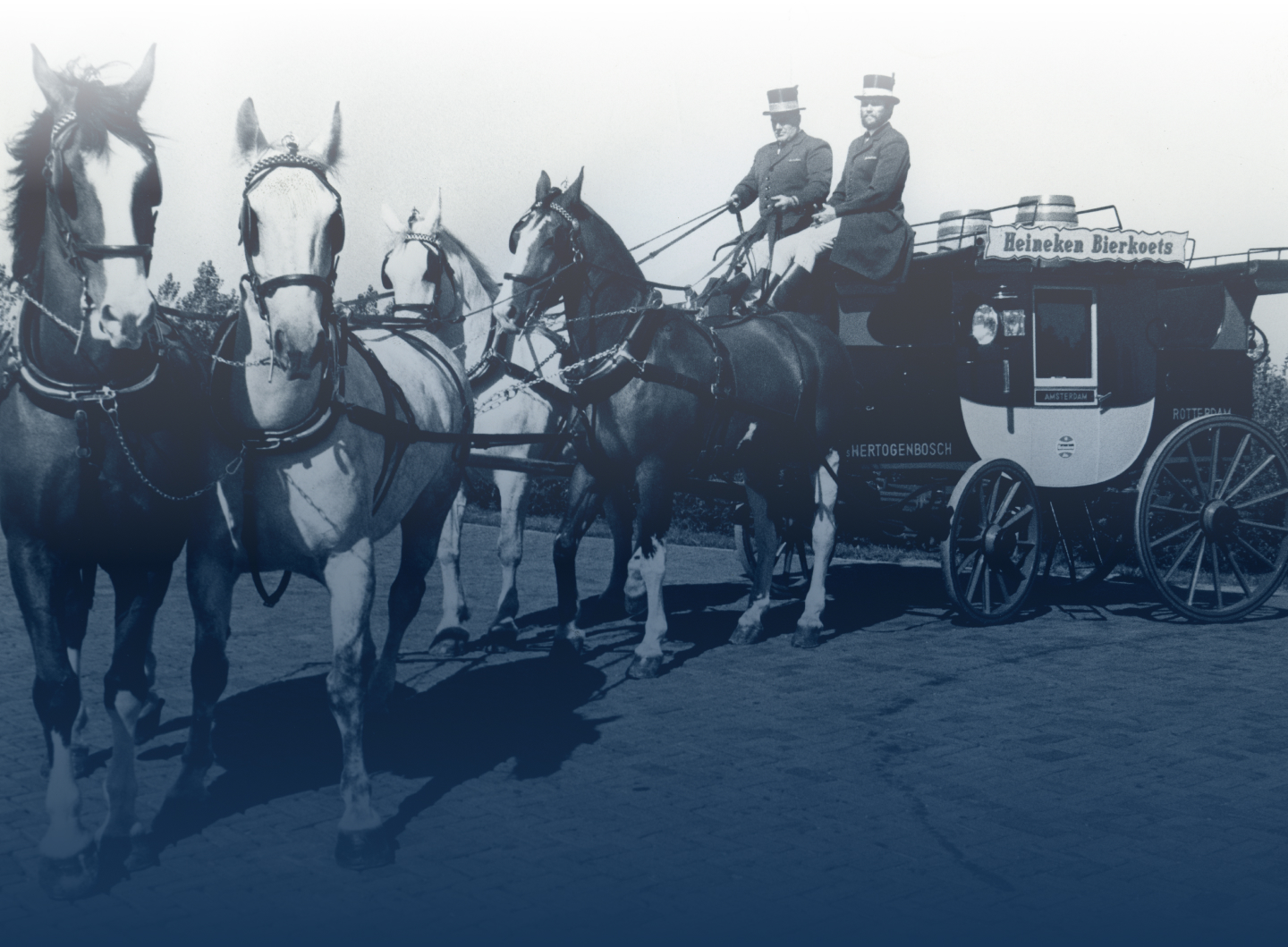 Facts & figures
Facts & figures Facts & figures Facts & figures Facts & figures Facts & figures
New unique film titles added in TMS

New objects (files, tapes, films) added
Cataloguing global events
Starting this year, we have diligently compiled information regarding two significant global events: the Covid-19 pandemic and the war in Ukraine. As these phenomena directly or indirectly impacted HEINEKEN and its employees, we have gathered updates, relevant photos, films, and documentation from our intranet and external channels, incorporating them into The Museum System (TMS).
This marks a new endeavour for us, as we strive to also document and stay abreast of current events, rather than solely focusing on historical objects and their accompanying narratives. Previously, such matters would have also been covered in personnel magazines, but these are sadly no longer in circulation. The ever-present shift towards digital platforms is a constant consideration for the Collection, prompting us to adapt to this change.
Audio-visual assets
In the early months of 2022, we received a collection of actual film (16 and 35 mm) stored in heavily worn-out cans. The ongoing restoration work necessitates a controlled environment, and even though no new titles have emerged from this collection thus far, we remain optimistic and dedicated to completing the restoration process, hoping to uncover fresh material.
Around the same time, we received an email from Derrick Williams, via our Amstel contacts, regarding the Amstel Malta commercial featuring Muhammad Ali from approximately 1975. Mr. Williams, the editor of this commercial, generously shared photos from the set, along with cast and crew information. Additionally, he possesses a pristine 35mm film print (while our copy is in 16mm format) and graciously provided us with an uncompressed digitised version.
We have successfully added 30 new unique titles to TMS (The Museum System) along with 41 film elements. It is worth noting that all 41 elements in this case were digital films.
Conservation & storage
Conservation & storage Conservation & storage Conservation & storage Conservation & storage Conservation & storage
We are delighted to share that Francien van Daalen from Van Daalen Papierrestauratie has successfully restored our exportjournaal (1885-1888). This valuable object holds significant importance in our presentations, and now, following its restoration, we have decided to include it in our exhibition. It will be showcased in one of our specially designated closed drawers, allowing a wider audience to appreciate and enjoy this restored piece.
Nissenhal
The written plan is currently under development. We have outlined three scenarios, ranging from light to heavy, that outline various stages of cleaning and reorganizing. These scenarios will undergo further refinement, allowing the team to assess and determine the most suitable approach to implement in 2024.
Heineken Gebouw Rotterdam
Throughout the first half of 2022, we curated an exhibition featuring 25 objects in the recently renovated Heineken Gebouw Rotterdam. This was somewhat experimental, considering that the building does not serve as a traditional museum or archive. While collaborating on the interior design, we also provided training to the staff there, acquainting them with our methods of handling and preserving objects. We remain vigilant about the display and care of our artifacts, and we are pleased to report that everything has been progressing seamlessly thus far, with visitors responding positively to the exhibition. We will continue to closely monitor the situation to ensure the best possible experience for all.
Loans
Our team attended the opening of Nationaal Biermuseum de Boom in Alkmaar. The formal opening was done by the former & current mayor of Alkmaar (Emile Roemer) and Anja Schouten. The Biermuseum has many collection items on loan from the HCF.