Thought leaders & inspirators
Since 2017, the Heineken Collection Foundation has been steadily building a learning network that includes the training and development of Heineken Experience staff, onboarding of new HEINEKEN staff, providing talks and lectures about various historical topics for audiences within and outside of HEINEKEN, and sharing our knowledge and expertise to help answer questions from colleagues, consumers and media.
Learning network
Learning network Learning network Learning network Learning network Learning network
In 2022, we continued to expand our learning network through several talks & lectures. Below is a summary of our efforts in 2022.
Onboarding of Heineken Experience staff
We resumed the onboarding of new Heineken Experience flex colleagues and – interns in 2022. Each month, these individuals participate in a 20-minute tour of our depot on the fifth floor. This ensures that everyone is aware of our location and that we are available to welcome and assist anyone with historical inquiries or a desire to learn more about the company's history.
We were also invited to speak during the management trainees onboarding events of Heineken Netherlands and Supply Chain. By doing so, these new hires all have a basic understanding of The HEINEKEN Company's heritage and relevance to Amsterdam, the Netherlands, and the world.
Learn@Lunch
An estimated 350 HEINEKEN Head Office colleagues gathered in the Koelschip at the Heineken Experience to attend a 'learn@lunch' session about the history of HEINEKEN & water stewardship. Several audio-visual assets from 'Kijkglas' were put to good use in the presentation.
History city walks
We hosted a historical walk through the centre of Amsterdam for a group of Heineken Experience colleagues. It has since been a topic of discussion whether this could be commercialised for the Heineken Experience.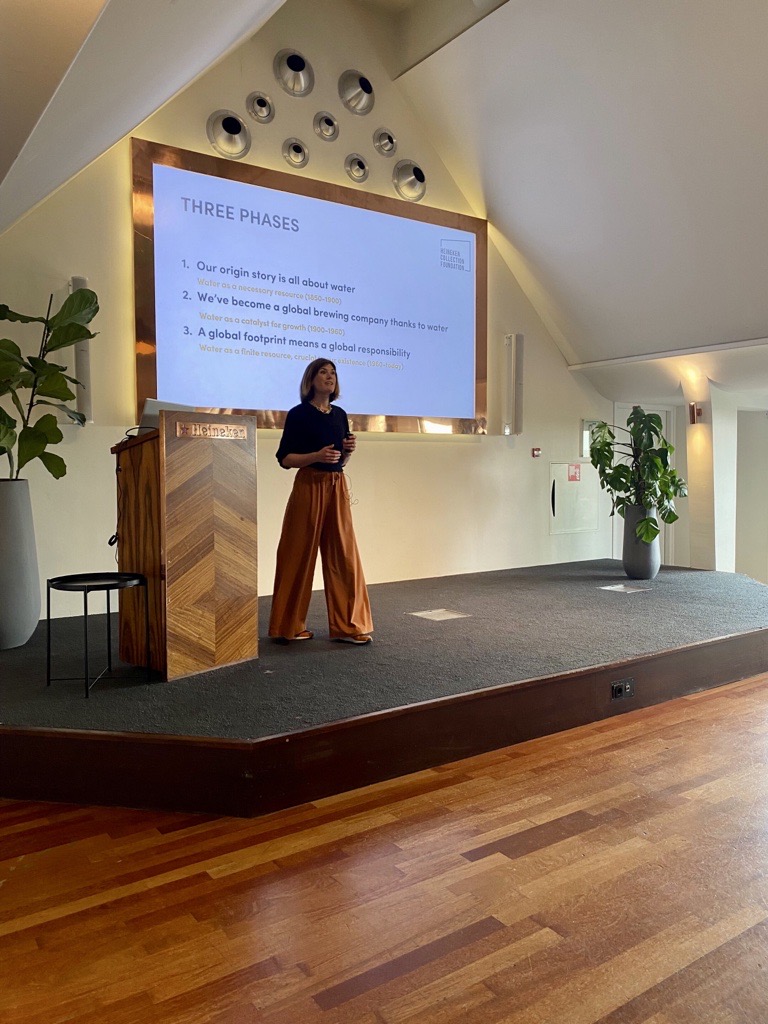 We are expert storytellers
We are expert storytellers We are expert storytellers We are expert storytellers We are expert storytellers We are expert storytellers
Commencement of recurring storytelling sessions
HEINEKEN Netherlands Regional Sales teams have found their way to the Collection for storytelling sessions from our team, specialised on their region. These sessions are meant to inspire the team and to provide them with accurate facts & figures, to either confirm or debunk company myths, and to ultimately equip them with stories relevant to their customers and brands.
Starting in September, the team has started to send out surveys after these sessions, to gather feedback on what went well and what could be improved. Some examples of feedback from participants.
Stars of the Collection
In 2022 we continued selecting and researching objects from the Heineken Collection for our 'Stars of the Collection' series. These short stories are published on the heinekencollection.com website in both Dutch and English, making the collection more accessible to a wider audience. They also provide bite-sized content suitable for social media channels such as Workplace (HEINEKEN intranet), The HEINEKEN Company and Heineken Experience LinkedIn pages and Instagram channels.
Thirty-two stories have been published on the HCF website in 2022. In 2023 an additional 25 objects will be selected and will serve as a source for new Stars of the Collection, continuously showcasing our vast collection of HEINEKEN-related objects. Strategically publishing these stories on the HCF website will generate additional traffic to it. Analytics on this will commence in 2023.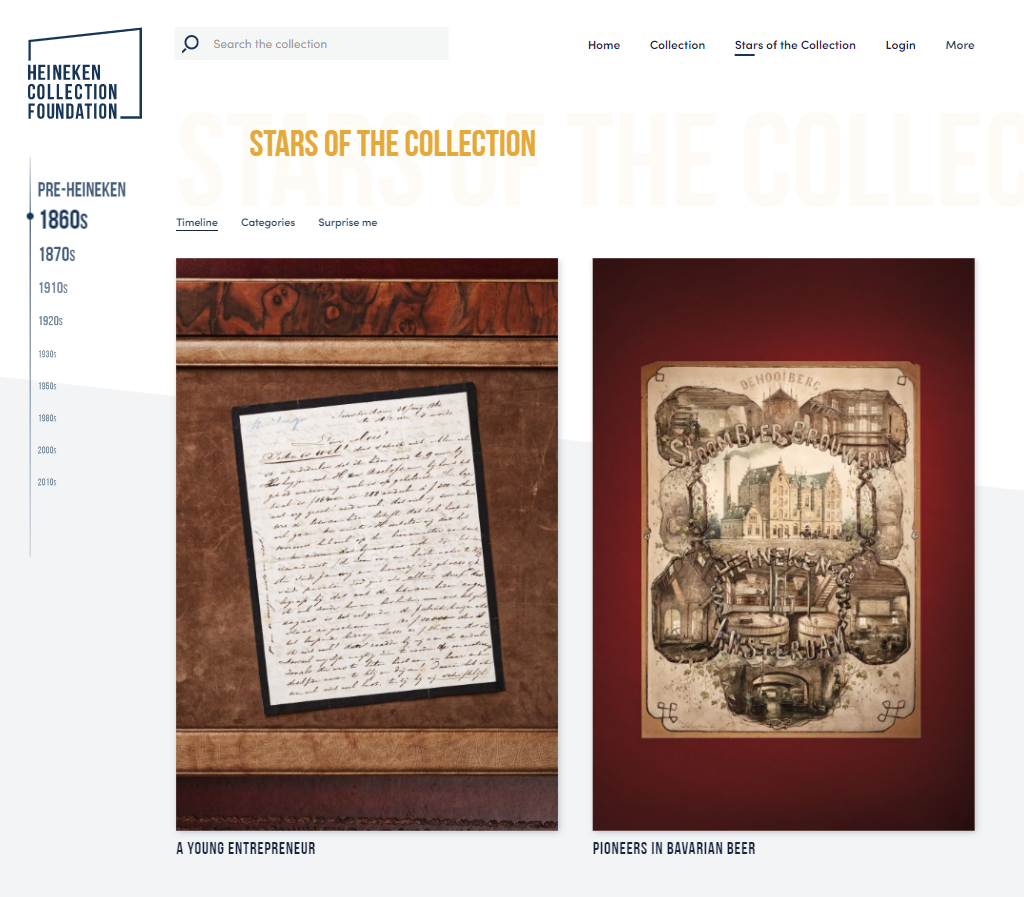 We offer fresh perspectives
We offer fresh perspectives We offer fresh perspectives We offer fresh perspectives We offer fresh perspectives We offer fresh perspectives
Deep-dive team session
Our team hosted an Amstel deep dive for the new global Amstel team working on the new Amstel strategy.
We also had HEINEKEN colleagues from the global brand team visit us, seeking inspiration from historic advertising campaigns.
Tailor-made heritage tours for VIP's.
We welcomed Gil do Vigor on the 30th of June, one of the biggest influencers in Brasil, for a dedicated Amstel session. Later, in August, we hosted another Amstel history session with a different group of influencers from South America.
The Dutch Minister for Foreign Trade and Development Cooperation, as well as several European ambassadors paid us a visit.
FAQs
Our team has diligently identified numerous recurring topics that consistently engage our attention. To efficiently address the most frequently asked questions, we have compiled a comprehensive document that can be easily shared. Moreover, selected portions of this document can be published online for broader accessibility. These topics include questions around the Heineken® label, the red star, famous Freddy Heineken quotes, the WoBo, and HEINEKEN's secret A-yeast among many others.
Green Giants
For much of our stories, we must rely on archival resources. While archives can be rich in information and detail, they tend to be a bit dry and void of emotion. Therefore, the Heineken Collection Foundation has decided to launch an oral history project called 'Green Giants'.
 In Green Giants, current HEINEKEN employees engage in conversation with the giants on whose shoulders they stand today: former Heineken leaders, brewers, designers, lab technicians, marketeers, and so on. These conversations take place in a bar setting and are captured on film. By filming their in-depth conversations, we aim to capture the wisdom that seldom gets put to paper, answer the 'why' questions about defining moments in HEINEKEN's history, and forge connections between HEINEKEN employees from wholly different eras.
In 2022, we planned to document four Green Giants. Unfortunately, due to circumstances beyond our control, we were only able to capture two.
This 1st shoot took place on the 5th of December in the Heineken Experience. An additional 8 couples will be captured in 2023, which will result in several hours of footage, providing valuable content for both in- and external use.
Communication plan
Since the commencement of a dedicated Communication & Coordination Specialist in June 2022, the HCF has significantly bolstered its strategic and regular communication efforts pertaining to all aspects of heritage. Although the third quarter primarily revolved around onboarding and project initiation, progress was made in exploring various communication channels, getting familiar with the content, and establishing relationships with counterparts within the Heineken Experience, HEINEKEN Netherlands and HEINEKEN Head Office.
Looking ahead, the team aims to present its initial communication plan during the first quarter of 2023. The plan will include thinking around increasing traffic to the HCF website – adding content like Stars of the Collection, Green Giants, Behind the Stars videos, and FAQs - and sharing stories on various in/ external social media channels.