This leather clog, with wooden sole and metal protective strip on the nose, came from one of the Heineken breweries. In what areas would the workers have used such footwear? A little research yielded the following.
The clog entered the Heineken Collection with the old cooper's tools, encompassing more than 500 objects from the former Heineken cooperies in Amsterdam and Rotterdam and breweries with a cooperage acquired by Heineken, such as Amstel. In a photo from the Rotterdam cooperage, the employee on the right is wearing such clogs. The two men are boring a so-called bunghole in a barrel, in order to fill it later and seal it with a conical wooden stopper (the bung). Let us assume that the clog was worn in any case by someone who worked in the cooper's workshop.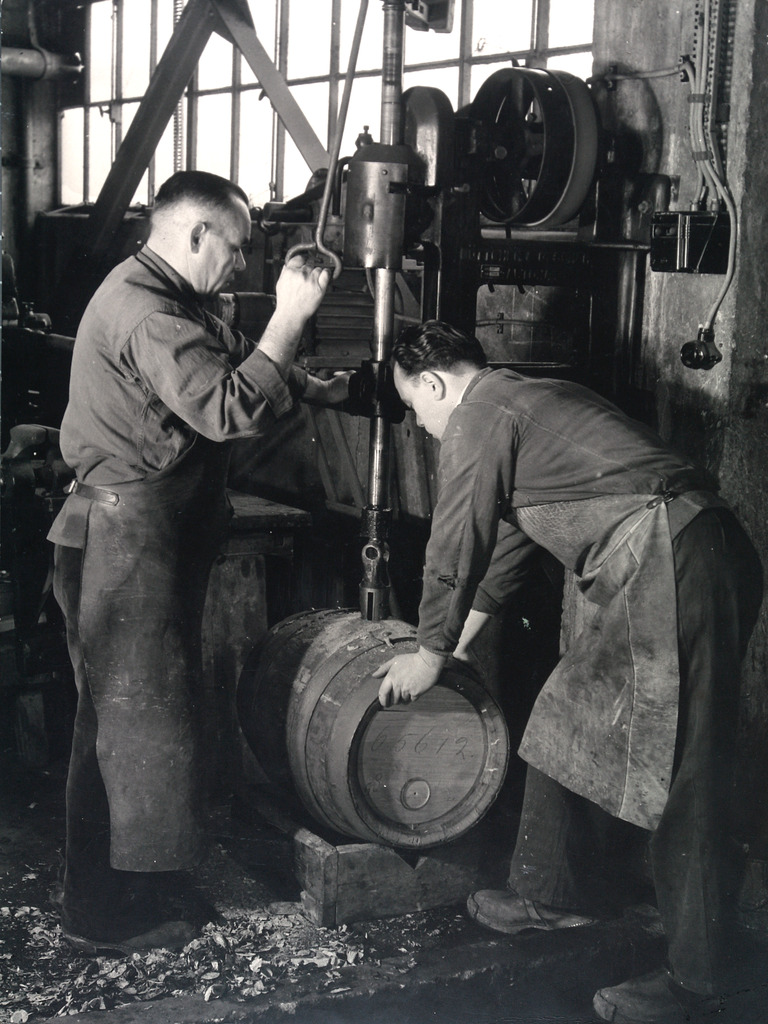 Coopers of Heineken Rotterdam, 1951-1952
Amsterdam cooperage
In the early 20th century, the Amsterdam Heineken brewery occupied a large site on Stadhouderskade, with over 30 buildings and other structures, including a cooperage for making wooden beer barrels. According to an article in the Amstel periodical Het Spongat from 1961 'the visitor to our cooperage will immediately notice the wooden floor, which consists of small blocks, a warm sound-absorbing floor covering, which, however, must be protected from water.' And: 'In the cooperage there are large stacks of staves, a stock of perfectly seasoned oak, which is extremely valuable; a wooden barrel is therefore a rather expensive form of packaging.' Such a leather clog can indeed be better imagined in this dry environment than in a wet brewing room.
Spot on
Unfortunately, the footwear of the coopers is not visible in the 1910 photo accompanying the article. Mr Silinger – first from the left at the joiner's bench – who was interviewed, still recalls unerringly, as a pensioner, all the names of his colleagues in the picture. Like him, they pose with coopers' tools and instruments whose function has long since been forgotten.
Barrels made of wood
The article in Het Spongat reports: 'Wooden barrels are durable and have a great insulating capacity. However, they are heavy (an empty 50 litre barrel weighs about 38 kg) and take up quite a lot of space. It is therefore not surprising that five thousand steel drums, which weigh only eight kg empty, will soon be added to the stock!' Then, on an optimistic note: 'It does not look as if all the wooden barrels will be out of circulation in the foreseeable future, and people who have mastered the coopers' trade will therefore continue to be in demand.'
That things turned out differently, and steel kegs quickly supplanted handmade kegs, is proven by the many coopers' tools that entered the Heineken Collection as 'museum pieces' in the 1960s. Including that lone clog! Brewery personnel today wear P PE, steel-toed boots.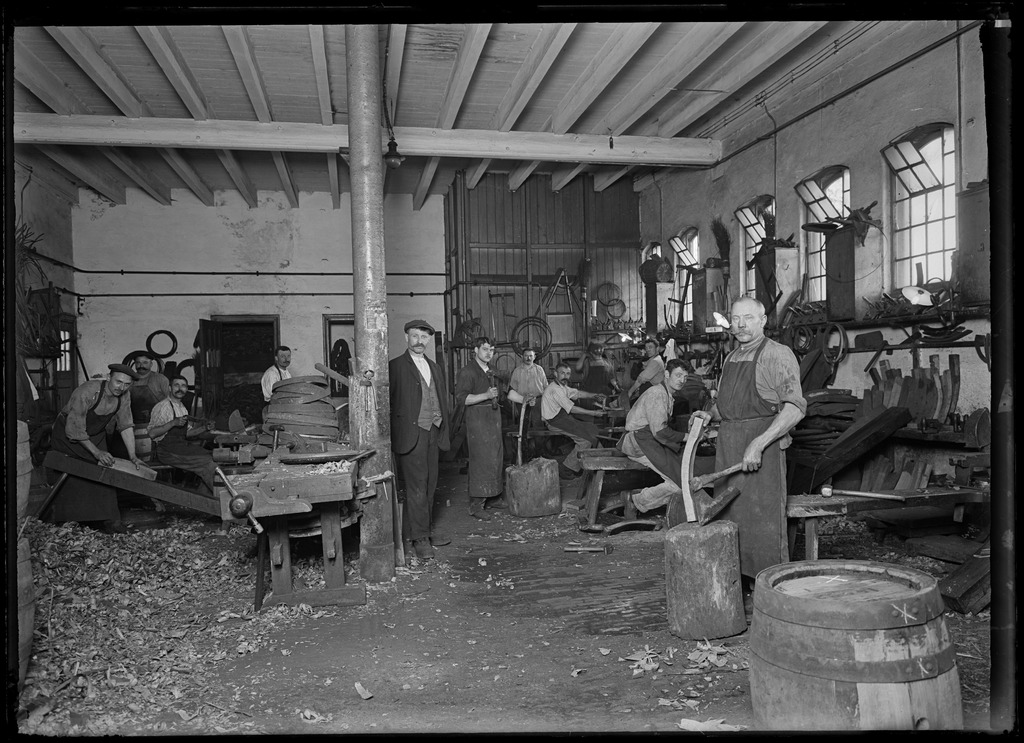 Employees of the Heineken Amsterdam cooperage, 1910