INFO
Demolition of a part of the Heineken Brewery in Amsterdam: mosaic from the facade of the keg storage
1992
black-and-white photograph
h 20.2 x w 25.2 cm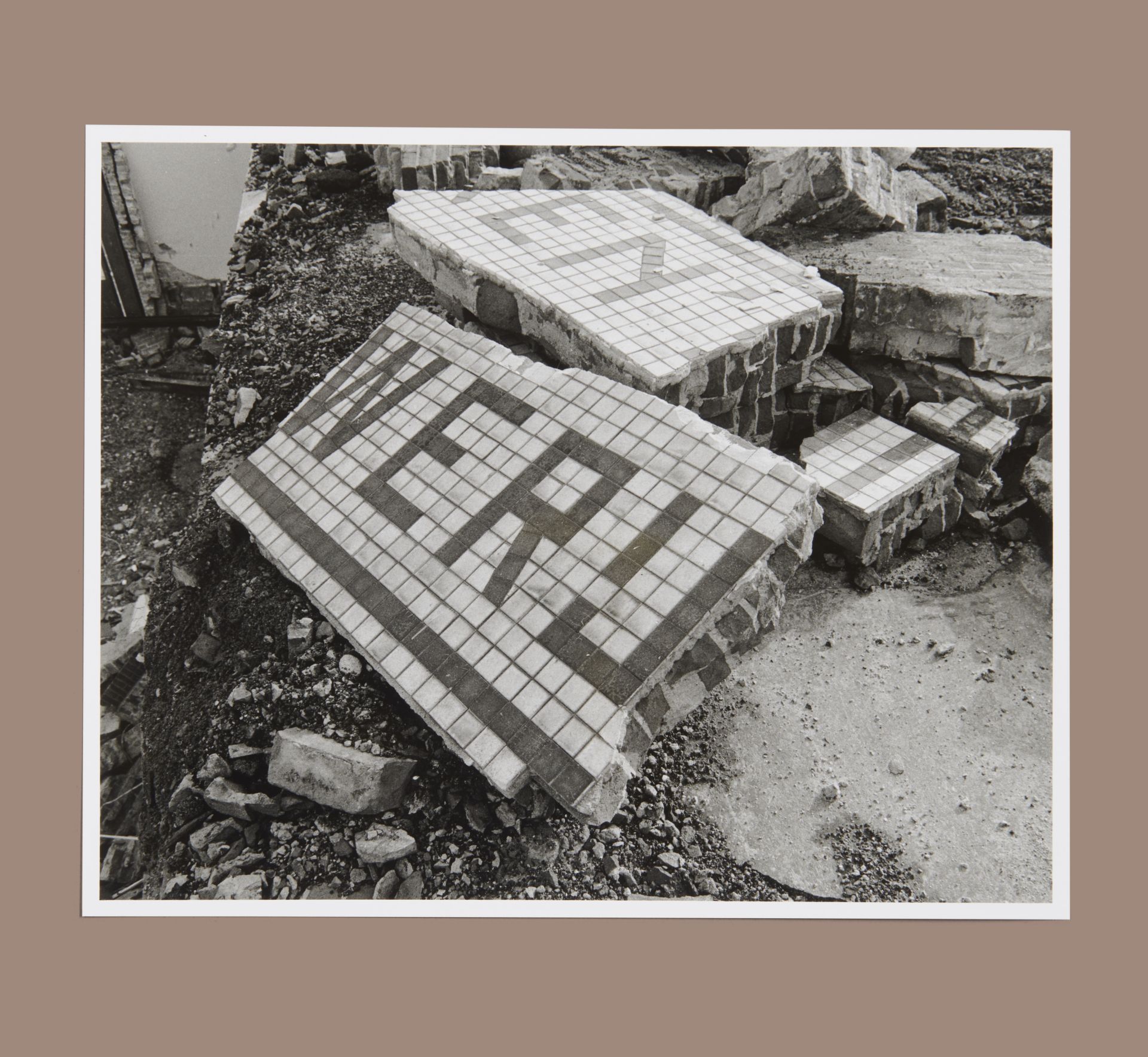 Fragment of a stylish past
On 22 April 1988, the staff and board members toasted the closing of the Amsterdam branch, in the Koelschip (Coolship) on Stadhouderskade. They drank Brouwsel 1466, the very last beer from the copper kettles.
The closure of 'Amsterdam' followed that of 'Rotterdam,' whose staff had already moved to the new brewery in Zoeterwoude, in 1975. Like Rotterdam at the time, the Amsterdam branch was in dire need of modernization. It was no longer worth the investment: with the ever-growing crowding and transportation problems the era of the city brewery had come to an end.
The move from the more than one-hundred-year-old building complex was met with a range of emotions among the staff in Amsterdam. Some older people saw it as a reason to retire early from their much-loved work. Others accepted the challenge to work in the ultramodern brewery in Zoeterwoude. And yet others were frustrated and downright angry. But almost everyone experienced feelings of sadness and nostalgia for all the memories – romanticized or not – attached to the Stadhouderskade location.
Farewell
Freddy Heineken too struggled with saying goodbye. 'I do want to keep something of the brewery here.' Thanks to that statement, and because the Amsterdam brewery was hugely popular with tourists, the buildings on Stadhouderskade retained the old brewhouses, malt silos and the large fermenting cellar building. The brewhouse was to be transformed into a visitor centre, the later Heineken Experience . In Rotterdam, only the monumental office building designed by architect Willem Kromhout was left after demolition. This remained empty for a long time, but in 2022 it has been redesignated as a multifunctional location, including meeting rooms, catering facilities and a museum function for the general public.
Wrecking ball
A number of brewery facilities in Amsterdam were also slated for the wrecking ball, including the buildings behind Stadhouderskade, such as the keg storeroom on the corner of Eerste Van der Helststraat and Quellijnstraat. They made way for a square with homes, stores and offices. During the demolition work the name mosaic that for years defined the street scene at the intersection of the keg storeroom was destroyed. The photograph recalls the century between 1873 and 1972, when the concern was known as Heineken's Bierbrouwerij Maatschappij (HBM).
A question of taste
The new square behind the brewery, in the middle of the artists' quarter, was appropriately named after Marie Heineken (1844 1930): Amsterdam painter, watercolourist, pastellist and niece of founder Gerard Adriaan. Her flower still lifes are particularly well known. Judging by her work, one might wonder whether this Amsterdam damsel-painter would have considered it an honour to have her name attached to this rather dull urban design. Although, of course, this remains a question of taste.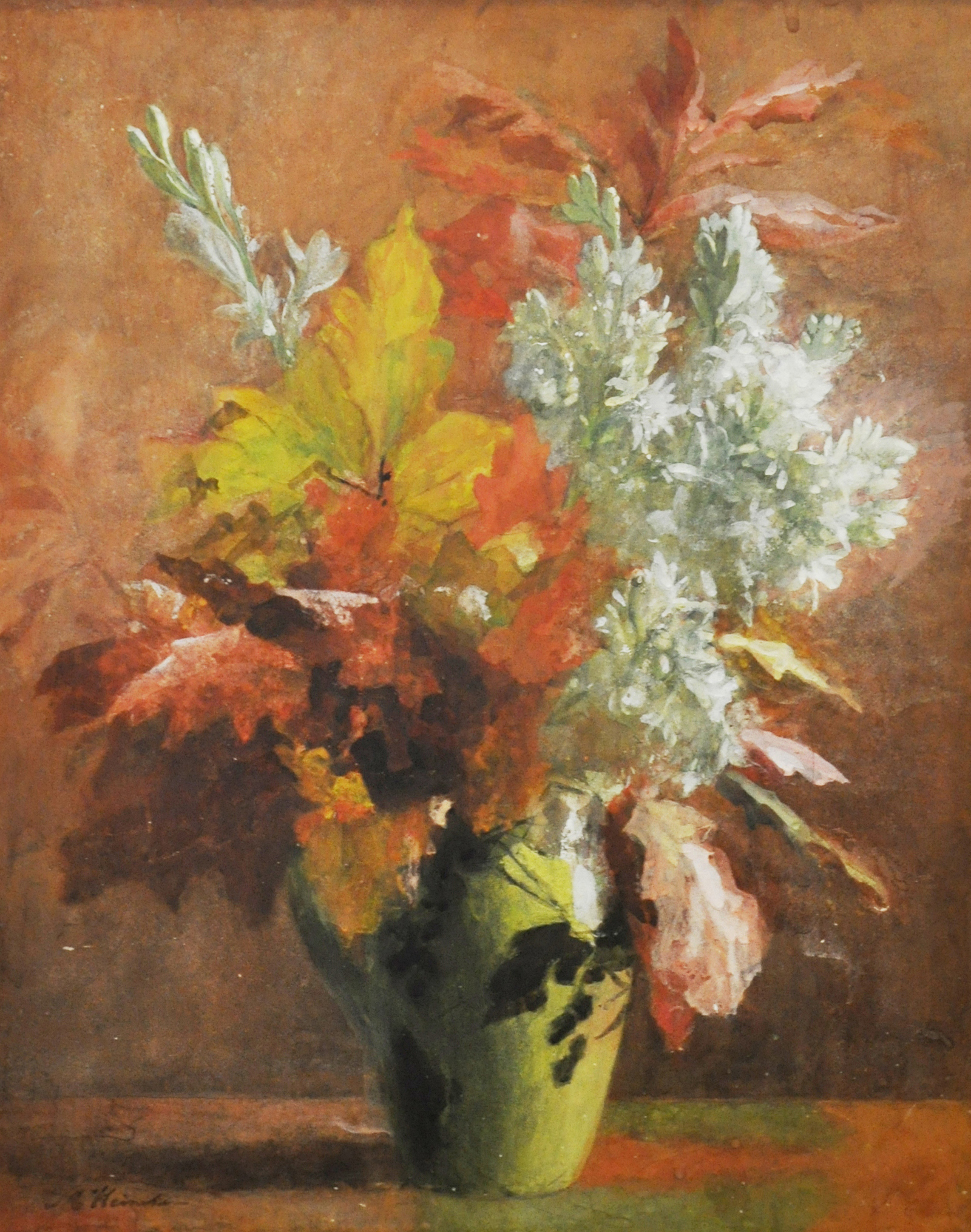 Marie Henriëtte Heineken, Autumn bouquet, watercolour, c. 1890