INFO
Design for a poster for De Hooiberg, Stoombierbrouwerij Heineken & Co. Amsterdam (The Haystack, Steam Beer Brewery Heineken & Co. Amsterdam)
J.C. Greive
c. 1869
Watercolour
h 70.5 x w 51.5 cm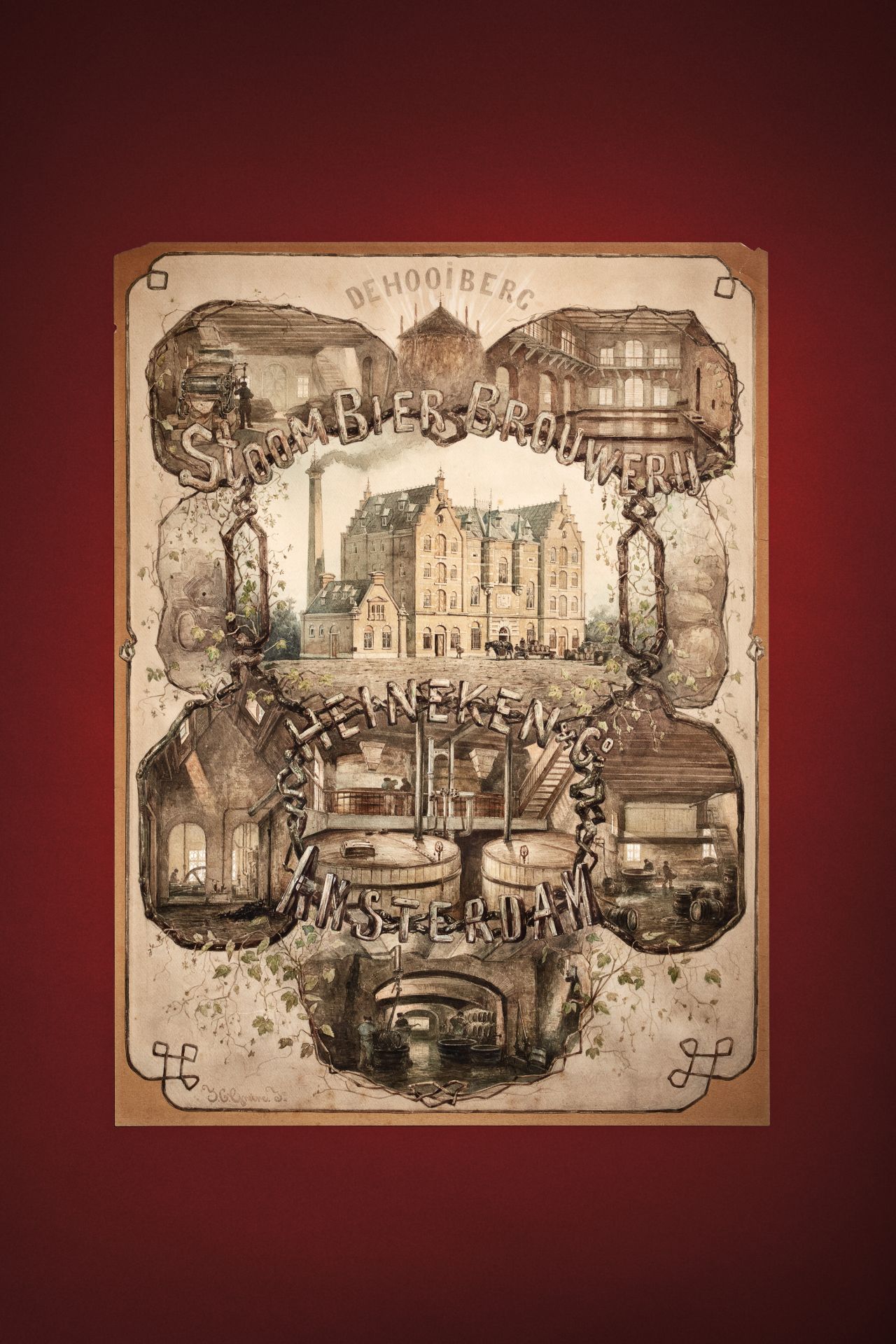 Pioneers in Bavarian beer
On 22 January 1868, Gerard Heineken presented the first brew in his new brewery. The office clerk responsible for the festive speech wrote: 'From the mists has arisen so splendid and proud / A building that will brave the passage of time.'
This prediction proved correct in the sense that a century and a half later Heineken still owns the building on Singelgracht. However, architect Gosschalk's impressive structure, so proudly presented here in Heineken's first advertising poster, would be replaced entirely with new construction.
Handsome and functional
The poster shows the beauty and functionality of Gosschalk's design: 'not a factory building in the ordinary sense, that is a box with some air and light holes.' Rooms fitted with the most modern equipment are presented here: below the image of the building you can see the brew-kettles and clockwise from the upper left: the malt loft, cool tanks, vat-rinsing area, tap cellar, and machine room.
Switch
All of this notwithstanding, less than a year after the brewery opened, the client and the architect were already drawing up plans for expansion. More racking basements were needed for the lagering, where secondary fermentation and carbonation take place. In addition, Gerard Heineken and brewmaster Feltmann were preparing to switch to Bavarian beer, nowadays known as clear pilsner. During the 1869 International Industrial Exhibition in the Paleis voor de Volksvlijt (Palace of National Industry) – where this advertising poster hung from his beer stand – Heineken was irked by the far greater interest in the pale lager than in his cloudy 'Dutch' beer.
Bavarian beer
The German method required new investments, including in cooled brewing areas. Even so, that didn't stop Heineken. On 17 January 1870, the time had come to announce in an advertisement to his customers: 'as of the beginning of the new year we have started producing Bavarian beer.'