INFO
N.V. Vereenigde Fotobureaux Amsterdam
Amstel Brewery Trucks
1929
black-and-white photograph
h 16.5 x w 23 cm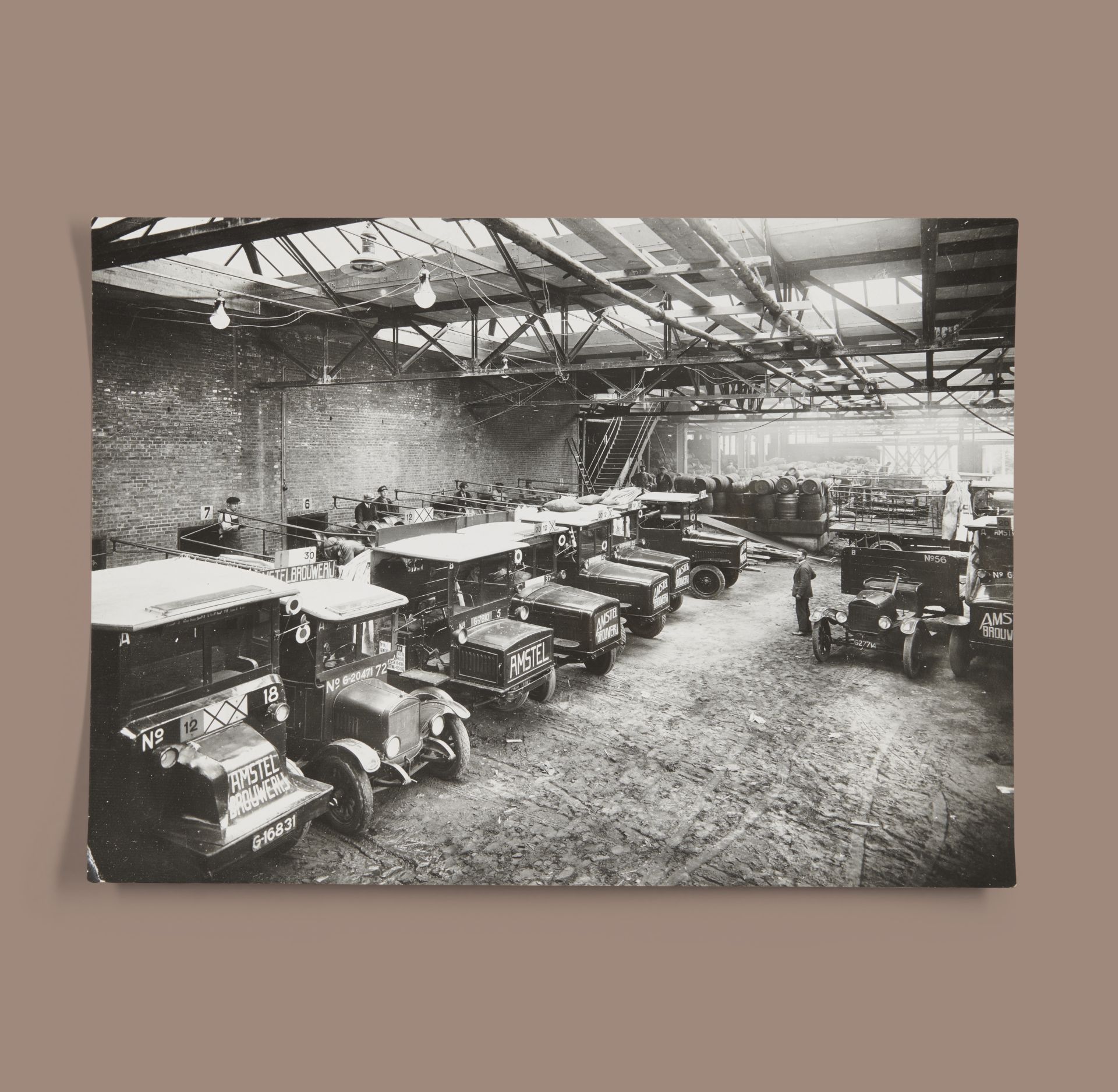 Well, who would have thought it? Electric trucks were already in service in Amsterdam a hundred years ago! They transported Amstel beer to cafés in the otherwise virtually car-free city. Because they made no noise, they were dubbed 'the silent killers.'
Before the advent of the automobile, horse and hand carts and horse-drawn carriages dominated the street scene. Beer kegs were delivered to pubs in special beer wagons drawn by two horses. The Heineken brewery bought its first truck around 1900. And, in 1907, Chief Dispatcher Chris van Eijk posed in the Amstel brewery's first such vehicle, a 22- hp Daimler, in front of a café on Amsterdam's Ceintuurbaan.
Motorcycle pioneer
German industrialist Gottlieb Daimler (1834-1900) adapted the gasoline engine to the world's first motorcycle in 1885. He then motorized the trolley car and the fire hose. In 1890 he founded Daimler Motoren Gesellschaft (DMG), which six years later delivered the first truck.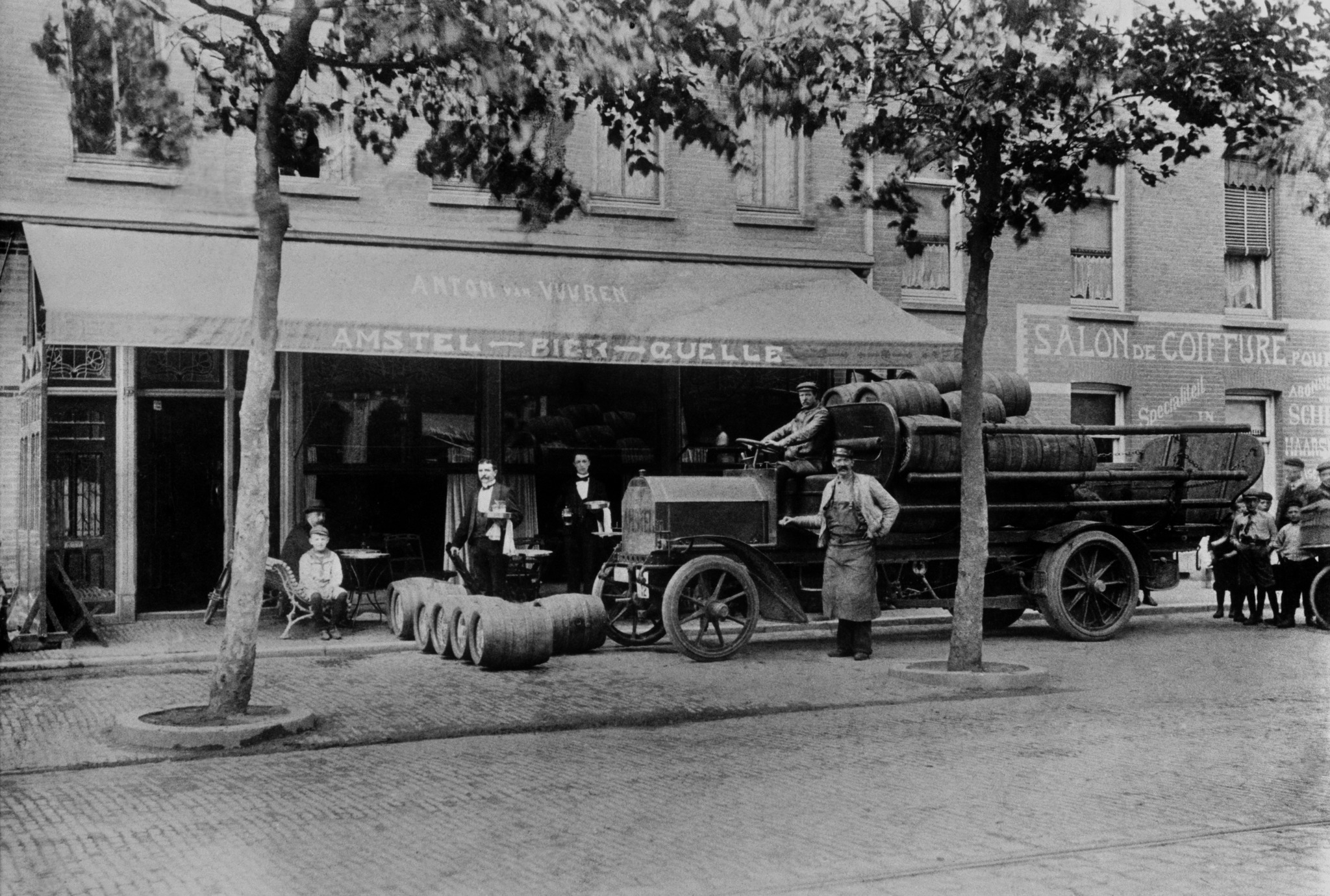 The 22-hp truck of De Amstel brewery in front of the Anton van Vuuren café, 1907
Horsepower
By then, the model purchased by the Amstel management had already undergone several transformations. A Daimler catalogue lists a similar Laßwagen by the Franconian Brauerei Leight from 1904. The metal wheels received rubber tires, the four-cylinder engine moved to the front, as did the belt drive of the gears, the load capacity went to 3 tons and the 'horsepower' to 22km per hour. However, the driver still sat in the open, like the coachman on the box-seat of a horse-drawn cart.
Mercedes
Incidentally, DMG produced the post-1900 cars under the brand name Mercedes. That name was forced on Daimler by the Austro-Hungarian consul Emil Jellinek, after his daughter Mercédès. Accordingly, De Amstel's first truck must have been a Mercedes. This was certainly true of the cars with which the brewery expanded its fleet in the following years. In the photograph from 1929 there are at least ten cabin trucks parked in a depot; on the right is an older, open version.
The future is electric
In the late 1920s, the Amstel Brewery also began using electric trucks for beer transport. At that time, the electric motor was an equal alternative to the steam and the gasoline engine. Nevertheless, the combustion engine won the competition, with all the consequences. The range of the earliest electric cars was too small and the average speed too low because of the heavy batteries. Only with the advent of the lithium battery at the turn of the next century did electric transport have a new chance.
Sustainability news
On 6 July 2021, Heineken, owner of Amstel beer since 1968, launched a world first: from then on the brewer would supply cafés in the Amsterdam city centre by means of an electric mini-tank beer truck. Managing director of Heineken Netherlands Hans Böhm listed its quietness as an advantage, in addition to sustainability and emission reduction: 'Thanks to this leap forward, you can enjoy a beer even better on, for example, a terrace.'