INFO
Box for shipping Heineken yeast
c. 1980
Cardboard, tin, plastic, yeast, styrofoam, h 36.5 x w 44 x d 44 cm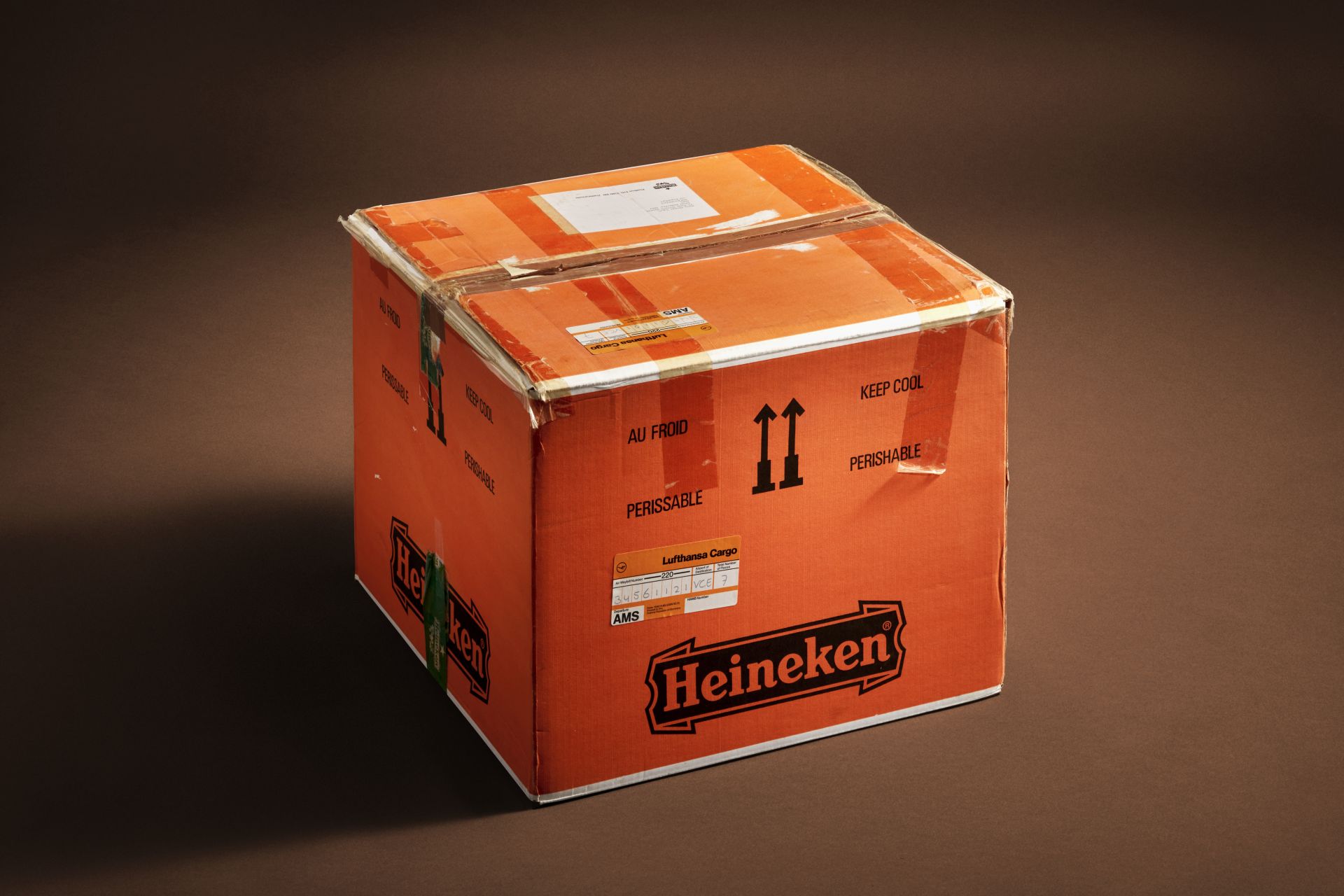 150 years of great consistent taste
While Amstel beer has been adapted to local palates all over the world, Heineken's strength is that it tastes exactly the same everywhere. So it's crucial that the ingredients get to everyone with a Heineken license or their own brewery in optimal condition. This applies in particular to the beer's 'soul': the Heineken-A yeast.
Around 1980 the yeast was dispatched in this special orange box, in an aircraft's cold store. This example has a Lufthansa sticker; the yeast was intended for Birra Dreher in Pedavena, near Venice, which had been brewing Heineken beer under licence since 1974.
the taste
The famous Heineken A-yeast was developed in the brewery's Rotterdam laboratory in the 19th century. In the company film The Heineken Family (1981), Freddy Heineken recalls the time of his grandfather Gerard Adriaan Heineken. He shows the glass volumetric flask in which chemist Dr Hartog Elion cultivated the first pure brewer's yeast strain in 1886. This yeast has been responsible for the characteristic taste of Heineken lager for almost a century and a half.
the quality
The film offers insight into how the Heineken brand is brewed and marketed in numerous places around the world, such as Indonesia, Malaysia and Jamaica. It outlines how fiercely the company guards its quality, and how a foreign brewery does not obtain a Heineken license just like that. Dutch technicians install machines on site, brewery employees receive their training in a Dutch training centre and test panels on location taste the results.
family company
With his personal comments, in the film Freddy Heineken confirms the image of the group, which in spite of its international scope always remained a family business rooted in a Dutch tradition and valuing quality above all.