Amstel gentlemen's chairs
This is a chair for a man of distinction, that much is clear. It perfectly suited the stately atmosphere of De Amstel Brewery, founded by two gentlemen as the Bavarian-Beer Brewery 'De Amstel' in 1870. Yet from 1933 this chair was located in one of Amsterdam's most modern buildings, namely the brewery's new headquarters at 11 Mauritskade.
A black-and-white photograph of the staff canteen from 1979 proves this. Two such chairs can be seen shoved against a table on the left. Even in black-and-white, they can be recognised from their curving armrests. The red leather upholstered chair has another striking feature, namely the double globe logo on the top of the backrest.
Gentlemen of the world
Amstel used the logo with the image of the two halves of the world between roughly 1920 and 1950. It symbolised the success of Amstel beer's global export; for instance, on the export glasses, which remained in use until the 1960s. The golden rim emphasises the head of foam and gives the 'gentlemen's beer' a distinguished appearance.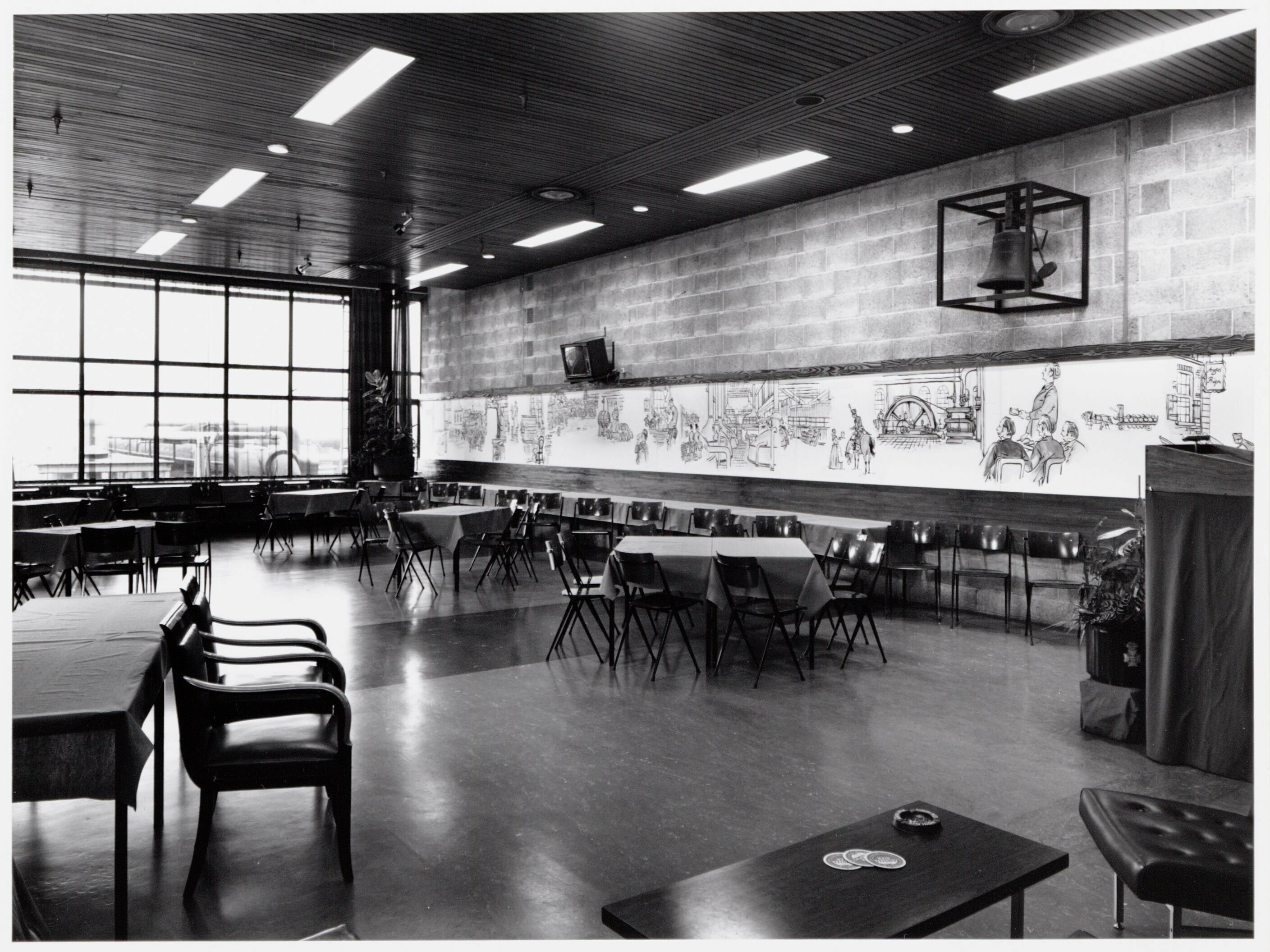 Interior of De Amstel Beer Brewery – Cafeteria, 1979. Stadsarchief Amsterdam / Ino Roël
Forgotten
The architect responsible for the new head office was the now almost forgotten Frits Adolf Eschauzier (1889-1957). His design was built on the corner of Mauritskade and Andreas Bonnstraat from 1928. Eschauzier favoured a version of the decorative Delft School style, which incorporated elements of the Amsterdam School's functionalism. This gave rise to a building of appropriately 'restrained luxury' in a time of economic crisis.
Dignified and business-like
The mix of the dignified and the business-like is reflected in the palazzo-like executive wing, with its natural stone cornices and decorations, which contrasts with the austere office block behind it. Behind three high windows at the front is the commissioner's office. An oval room, the seating area of which has a semi-circular ceiling with gold leaf decorations and walls of walnut veneer, and others covered in leather. The doors are inlaid with expensive wood elements featuring hops and barley garlands. Six coats of arms are displayed above the black marble mantelpiece. On the snow-white stucco ceiling, nude goddesses hover with the Amstel globe logo among the stars.
Chic
Eschauzier himself designed the furniture for this stately room, in materials with a stylish appearance such as walnut, rosewood veneer and leather. It is quite conceivable that the red Amstel chair once stood here at a long meeting table. The Heineken Collection has six of these chairs, later upholstered with beige fabric.
Today the building houses the Amsterdam Fashion Institute. The facade relief with springing bucks, barley and hops by Gerarda Rueter is a reminder of the time before the 1980s, when Heineken shut down De Amstel Brewery on Mauritskade. Almost nothing of Eschauzier's furniture survived except for a few gentlemen's chairs.