INFO
Guéret Fres. Ortt & Cie.
Siphon of Heineken agent K. van den Heuvel, Aalsmeer
1920 - 1930
glass, tin
h 31 x Ø 11 cm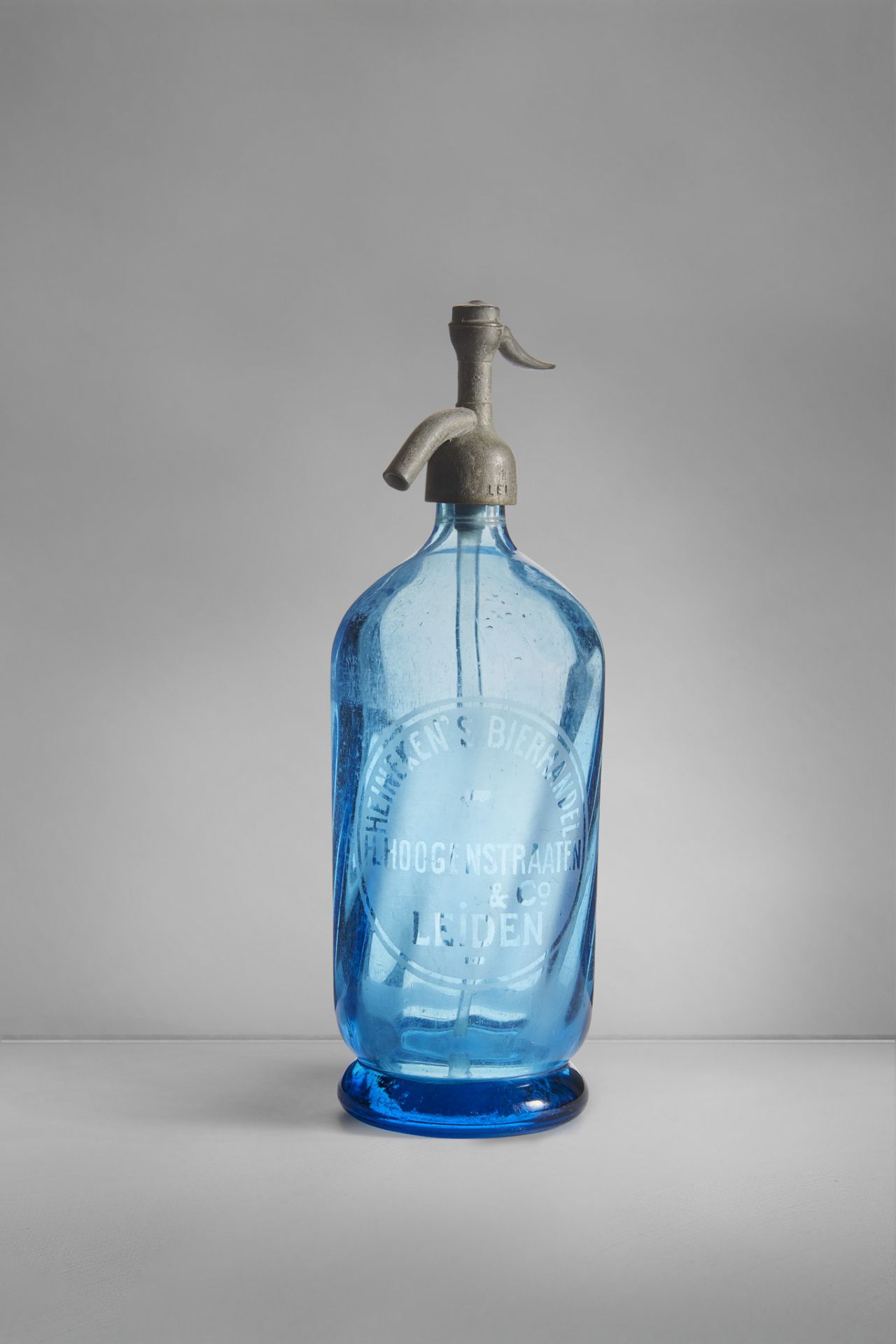 A touch of Paris in Aalsmeer
Who doesn't know them: the azure water siphons so popular as interior decoration? They evoke the nostalgic atmosphere of Parisian cafés from the belle époque, the 'beautiful' period around 1900. This is not exactly the association we have with the ultra-Dutch town of Aalsmeer.
Yet this siphon bears the text: 'K. van den Heuvel Aalsmeer, telephone 62, Speciality in Heineken beers, electr.[ical] Mineral Water Factory.' The phone number has only 2 digits, which corresponds with the same period, around the turn of the century. Kommer van den Heuvel indeed had a business on Dorpsstraat in Aalsmeer from 1912: first a pub and beer bottling plant, later an off-licence with a mineral water factory. He was listed as Heineken's chief agent from 1946 onwards.
History
In 2004, at the 100th anniversary of his business, Van den Heuvel's grandson, the retired liquor store owner Kommer Baarsen, recounted how his grandparents started out with a pub at 48 Dorpsstraat. There, his grandfather sold beer from the Zuid-Hollandsche Bierbrouwerij (ZHB) in The Hague, in those days also known as bad-tasting 'hospital beer'. A competing establishment on Aalsmeerderdijk opposite his pub sold Heineken's, for which his grandfather did not have a licence. The fact that the publican was a little too fond of his own liquor did not help his business. Shortly after the Second World War, Van den Heuvel went to the Heineken's head office in Amsterdam in person and secured permission to sell its beer as well.
Own brand
Around 1920, Van den Heuvel's daughter Ploon and her husband Klaas Baarsen transformed the café into an off-licence and liquor wholesale business. A factory with electric machines was built behind the shop. There they developed their own drinks, such as KB fizzy lemonade and cola made from carbonated mineral water.
Soda water
This 'soda water' was also sold separately in this type of mouth-blown siphon, with the characteristic torsade, blue lead glass. From the First World War the siphons were made in Paris by Guéret Frères. They arrived in the Netherlands in the early 1920s, where they were provided with etched text by the Rotterdam branch of the Guéret brothers, Ortt. & Cie.
Known worldwide
Siphons were banned in France in 1956. With age, the lead glass could weaken and explode. This meant the end of the elegant bottles as utensils. Nevertheless, the Baarsen family continued to supply soda water, but in safer packaging. Nearby Schiphol Airport was a grateful customer: for years to come, the liquor store bottled some 4,000 bottles of soda water annually for KLM, for use in the aeroplanes. In this way, the name Kommer Baarsen travelled the world.