INFO
Malcolm T. (Skip) Liepke
Two women drinking Heineken
beer at the bar of a pub
1992
oil on canvas, in wooden frame
h 63.6 x w 83.7 cm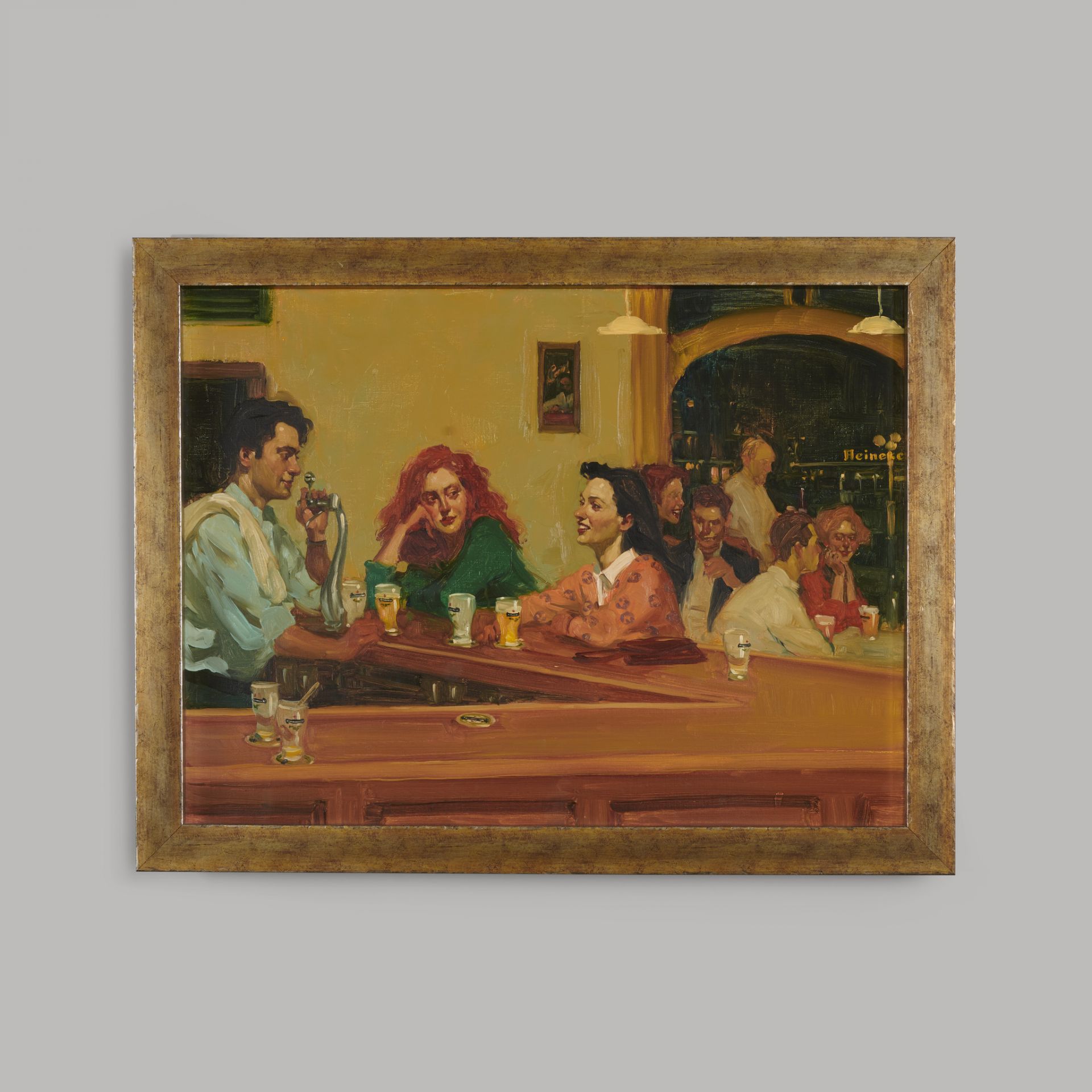 Beer and the visual arts is a somewhat lesser-known combination than beer and sports. Nevertheless, over the years Heineken associated itself with art and artists in various ways. Starting with the founder of the concern in Amsterdam, Gerard Adriaan Heineken.
As a board member, Gerard Adriaan stood at the cradle of the Rijksmuseum and the Stedelijk Museum. His home, the imposing Heineken Villa that he had built in 1890 opposite the brewery, was decorated with hundreds of drawings and paintings that he collected in the Netherlands and abroad. Unfortunately, the art collection was dispersed after his death.
In the years after the Second World War, Heineken's advertising department frequently awarded commissions to artists. From 1965 onwards, the cheerful art in the Heineken Gallery broke through the darker side of the brewery on Ferdinand Bolstraat. Moreover, in 1988 the biennial Dr A.H. Heineken Prize for Art was established. The largest Dutch award for visual artists consists of a cash prize of EUR 100,000, half of which is intended for a publication, work or exhibition.
Two women
And then there is this painting of two women at a bar, talking to the barman. It is part of the 1992 advertising campaign 'Beer as beer is meant to be.' The American artist Skip Liepke made a number of oil paintings of atmospheric Heineken moments. Ireland's Anne Magill provided colourful gouaches, details of which can be seen on a series of six beer glasses.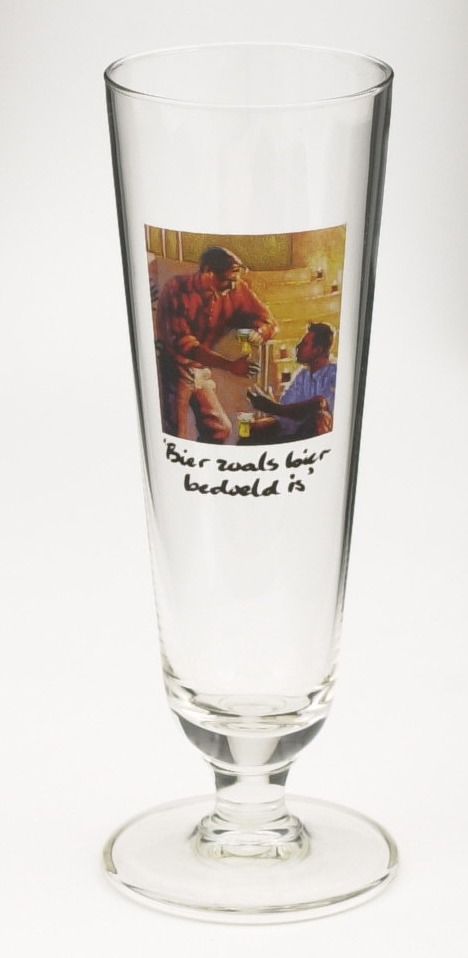 Anne Magill, Beer glass, 1992
From clear to hip
In the early 1990s, 'Beer as beer is meant to be' replaced the popular 1958 catchphrase 'Cool, Clear, Heineken.' The advertising agency PPGH/JWT, with which Heineken entered into partnership in the early 1990s, was responsible for launching the new slogan. The media savaged the campaign: 'too snooty' (NRC) and 'heavy-handed' (Volkskrant). Freddy himself was also none too pleased: 'I am almost 69, so it is possible that I have a poorer sense of things. But I think you have to sell beer to that mother in Zwolle, that common denominator, not just to a hip moustached advertising guy in Amsterdam.'
Rehabilitation
In 1998, by high command, the time-honoured 'Cool, Clear Heineken' was restored and the campaign ended. What a pity about those paintings, the merchandise department must have thought! Finally, in 2011, the honour of Skip Liepke and the painting Two women (which never made it into the campaign) was reinstated. Bekking and Blitz publishers issued a folder of double postcards featuring five of Liepke's works. A Heineken moment for the artist – as it was meant to be.