INFO
Bessel Kok
Engine Room in the Heineken Brewery in Amsterdam
c. 1984
pastel on paper in wooden frame
h 78.8 x w 103.4 cm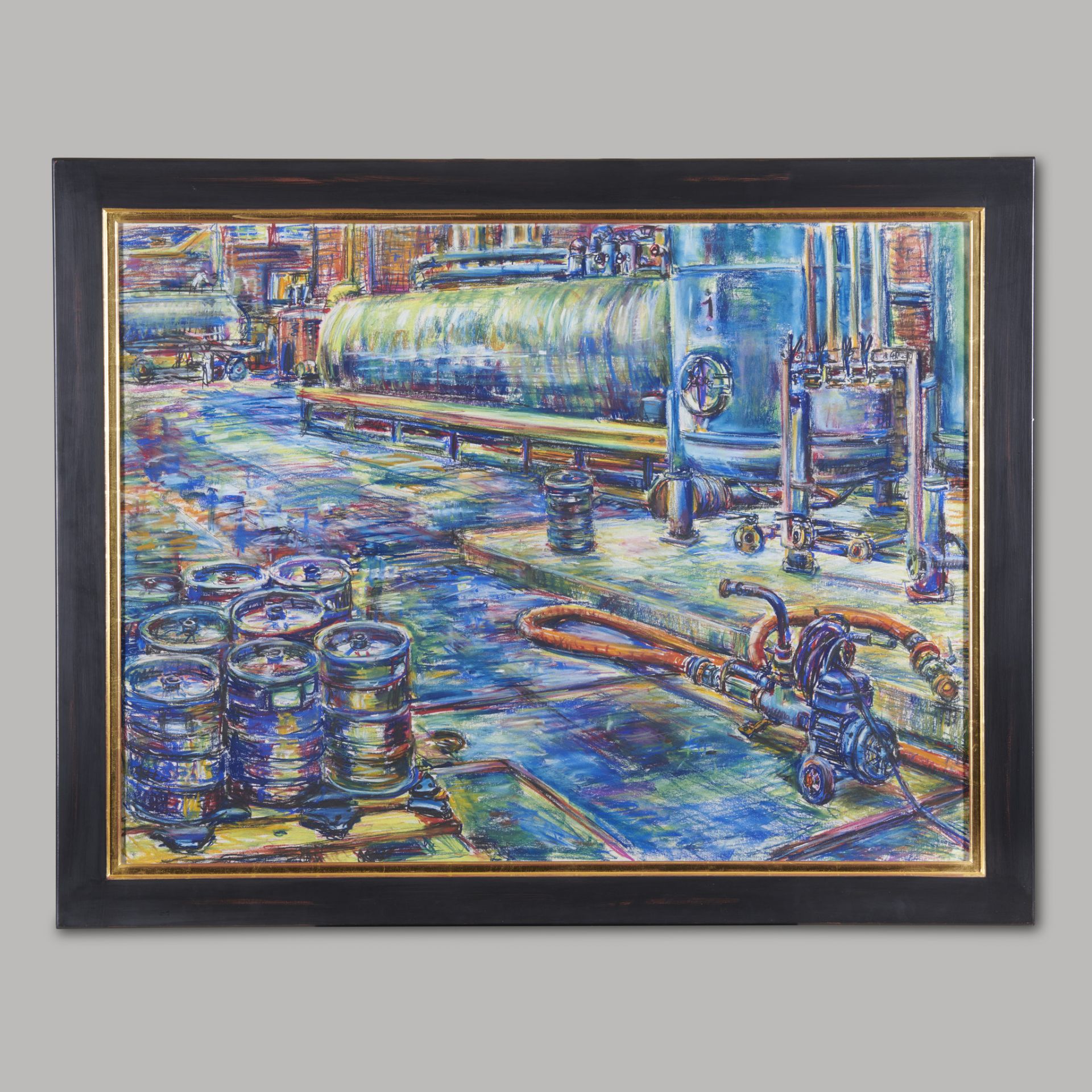 Man and machine in colourful chalk
In 1983-1984 the artist Bessel Kok (1927-1991) drew at Heineken in Amsterdam. He was particularly fascinated by the equipment and processes, as here in the boiler house, the engine room of the brewery. In this pastel, Kok depicted storage tanks on the right and seven beer casks in the foreground. The carbon dioxide tank can be seen in the background.
For a year, Kok could be found almost daily, punctually, from 9 to 5, in the company buildings on Stadhouderskade. Like a 'journalist in images,' he made the drawings with pastel crayons on his easel in the machine room, but also in the brew house, the lagering cellars and the bottling plant. Curious Heineken employees regularly stopped by to have a look and a chat. Kok was asked all sorts of questions: about his life as an artist, his own work and about what he thought they did in the brewery.
Why?
One question always recurred: 'why do you do this work?' Bessel Kok was originally a portrait painter. He combined his interest in people with a fascination for machines in the chalk drawings of the brewery interiors. He became increasingly intrigued by the working atmosphere and the attention with which people dealt with their materials and machines. It turned out to be a fount of inspiration.
Heineken Gallery
The drawings were first shown to employees in the company canteen on Van der Helststraat. Eight works were purchased and included in the Heineken Collection. An exhibition in the Heineken Gallery followed in the autumn of 1984. This was located on the ground floor of the bottling plant on Ferdinand Bolstraat. The Gallery's spiritual father was sculptor-painter Henk Hesselius. In 1965 he persuaded the management to permanently allocate Heineken's commercial 'window display' to exhibitions of contemporary visual artists. One of the first lucky ones in 1966 was... Bessel Kok.
Art showcase
Together with Ad Sinkeldam of Heineken's advertising service and press officer Robert Elfrink, Hesselius was the driving force behind this successful initiative for years. In the beginning, he had to call fellow artists himself to ask if they would like to exhibit at Heineken; however, by the copper jubilee in 1978 he said that they could hardly handle the requests anymore, about 200 a year. Amsterdammers came by tram from all corners of the city when a new exhibition was on display. By the time of Bessel Kok's solo show in 1984, it was impossible to imagine the street scene without the 'showcase.'
End in sight
In 1990, Hesselius could look back on a quarter century of artistic excitement and variety. Some ten exhibitions a year, up to and including 'living galleries' with performances. Unfortunately, the end was in sight: due to the relocation of the brewing activities to Zoeterwoude, the bottling plant was demolished, including the street gallery.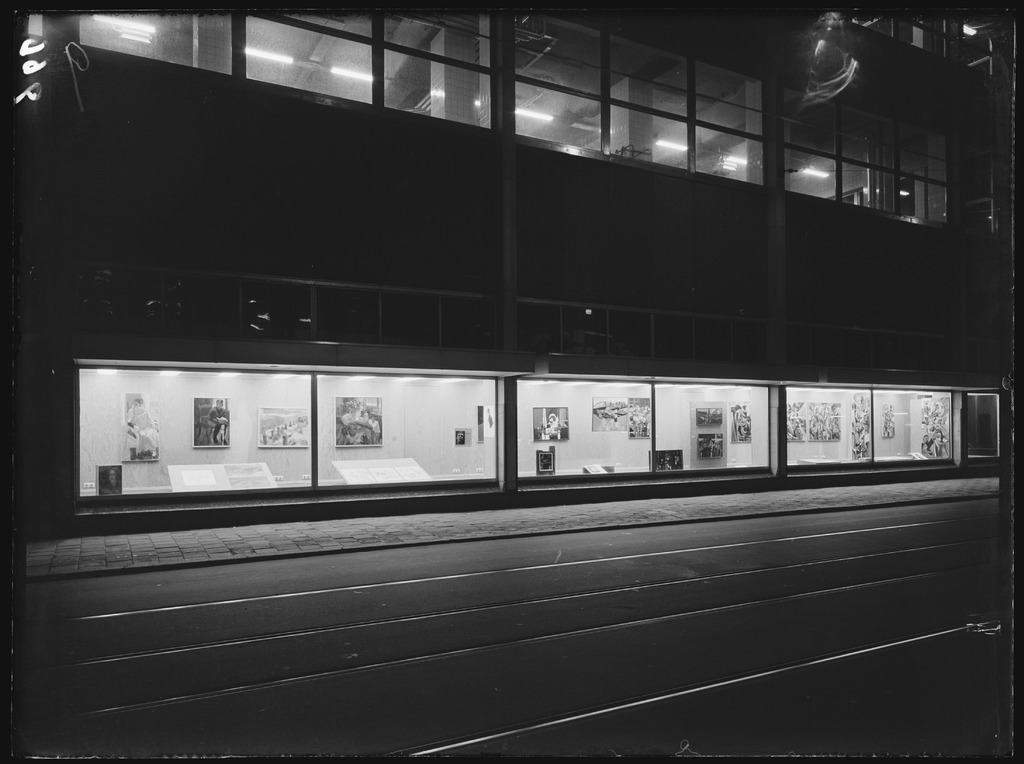 Heineken gallery, c. 1966