INFO
Surinaamse Brouwerij N.V., showcard, cheerio met parbo (cheerio with parbo)
c. 1960
offset lithograph on cardboard
h 52 x b 48.7 cm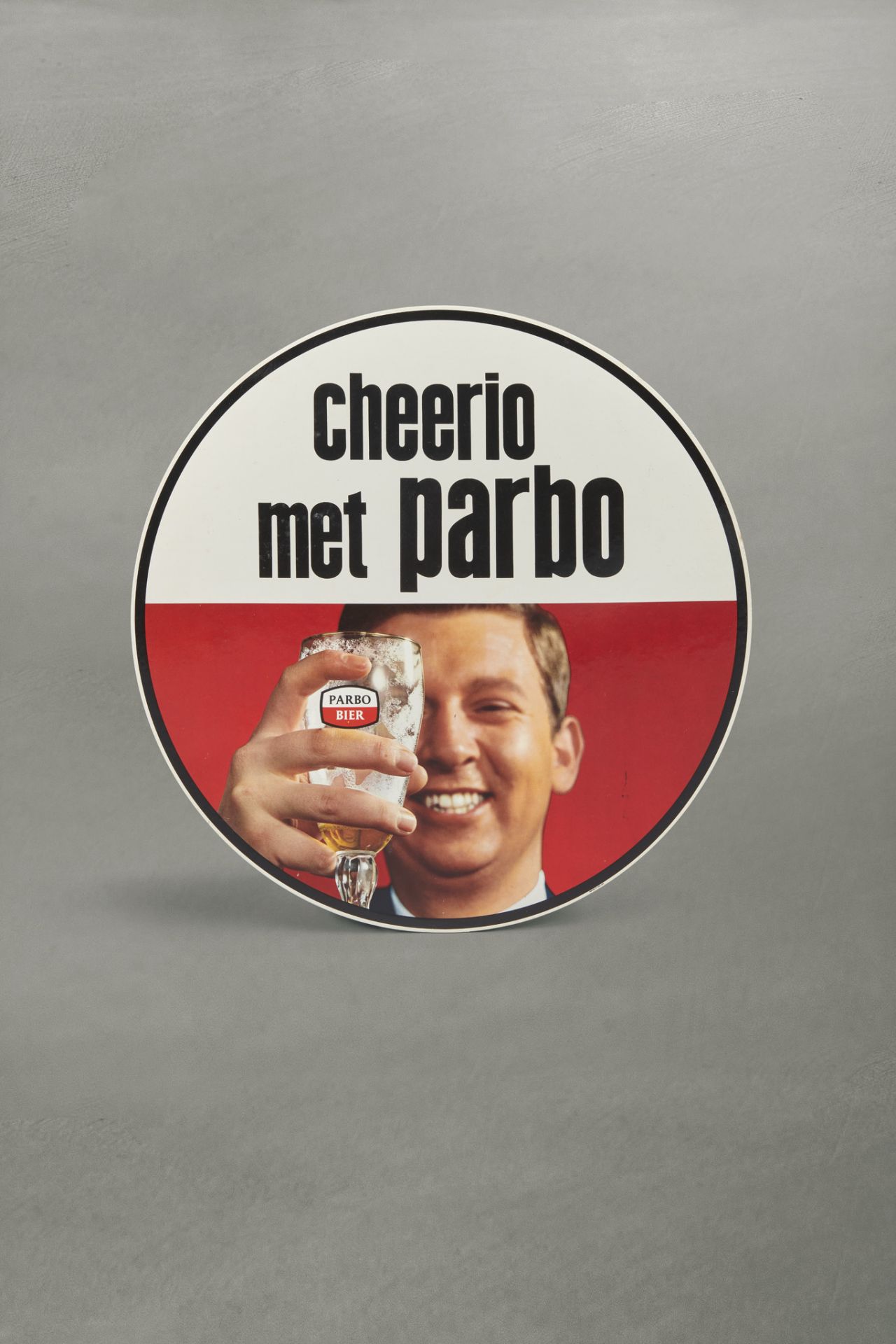 When Piet, Ben and Arthur Dumouleyn from Hontenisse in the province of Zeeland decided to continue their brewery in Suriname around 1950, they first knocked on Heineken's door. At that time still a Dutch overseas territory, Suriname did not have its own brewery. Because locally brewed beer was cheaper than import beer – no import duties and lower transport and packaging costs – the brothers expected to be able to gain a large share of the local beer market.
Due to a lack of money and knowledge of brewing in tropical conditions, they were seeking collaboration with an experienced Dutch brewer. Heineken, however, declined, unwilling to upset its importer in Suriname. Amstel, on the other hand, was enthusiastic about the plan.
Competitive grip
De Amstel Brewery was strong in export. In the 1950s, more than a quarter of all the bottled beer leaving Mauritskade was exported to around 100 countries worldwide. However, with German competition once more on the rise in the post-war period (and due to high import and packaging costs), the management was looking for partners to set up a brewery abroad. With local production, a brewer could also get a tighter grip on foreign markets, something Heineken had been successfully putting into practice since 1930.
Parbo
In 1952 Amstel took a majority stake in the yet-to-be-built Surinaamse Brouwerij N.V. (Surinam Brewery) owned by the Dumouleyn brothers. Finally, after many financial, logistical and political hurdles, a pilsner of excellent quality flowed into the brown bottles of the 'Parbo' brand at the end of 1955. The basis of Parbo beer consisted of light-coloured malt, supplemented with specially cultivated rice, water and hops. The special taste caught on. Parbo quickly conquered over half the market and became an integral part of Surinamese society.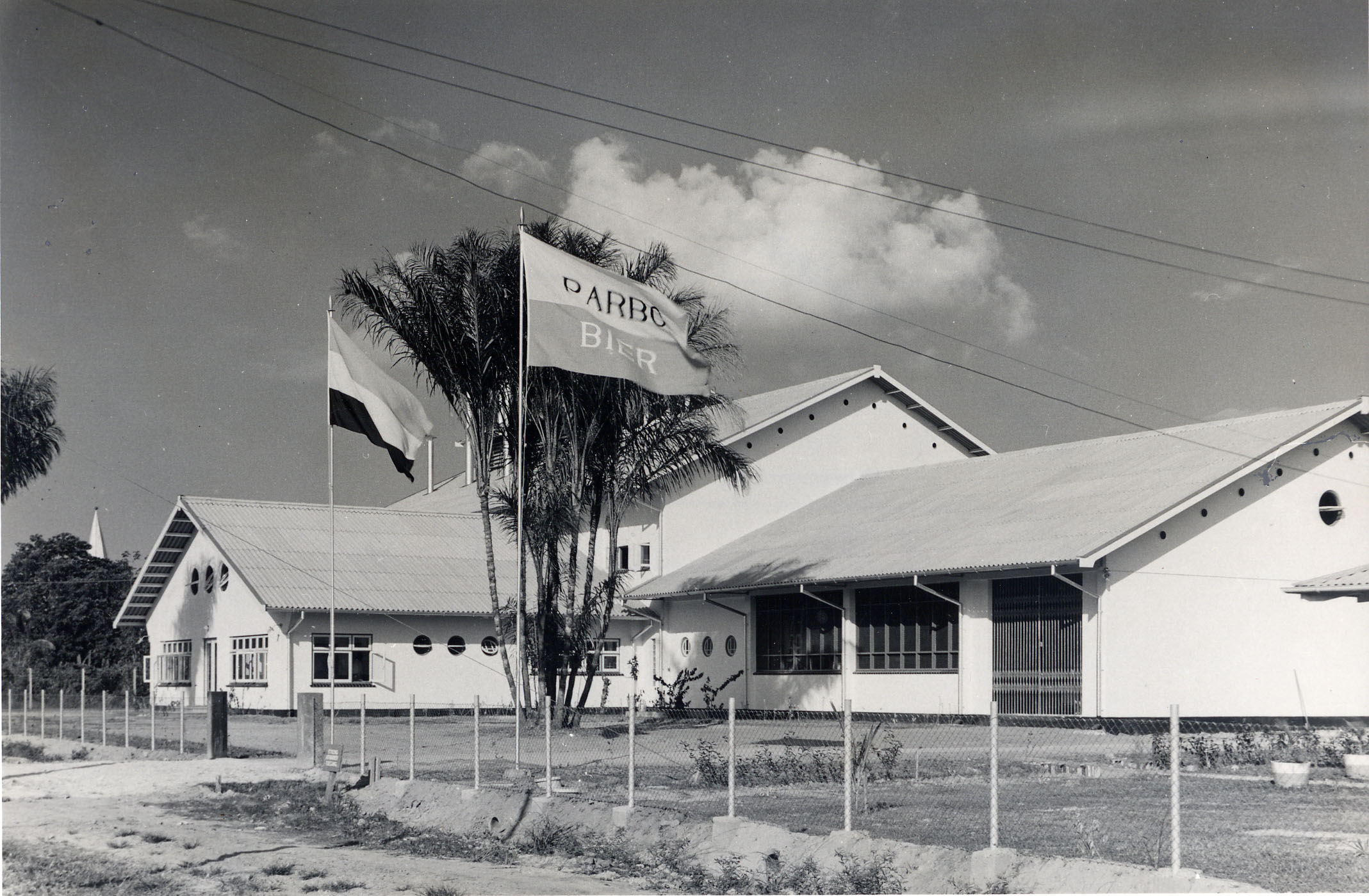 The Surinam Brewery around 1960
Djogo
The launch of the litre bottle, the Djogo in Surinamese, certainly contributed to this. The name comes from the word jug: the vessel the original inhabitants – they call themselves indigenous people – used to store water. For the Surinamese, the Djogo is synonymous with social life; you never drink a large bottle like that alone.
Cheerio
And then we come to the round showcard of the photograph released by Surinam Brewery around 1960. A smiling beer-drinker raises his empty Parbo glass: cheerio! A typical sixties word and – like 'hip' – taken from the English language. Following another trend, the slogan was written without capital letters. However, the most remarkable thing is the model, so cast that his appearance cannot be pigeonholed. One man, who appeals to people from all cultures in this vast country: Native Americans, Europeans, Afro-Americans, Hindus, Javanese, Chinese, Jews, Lebanese, Syrians and Palestinians.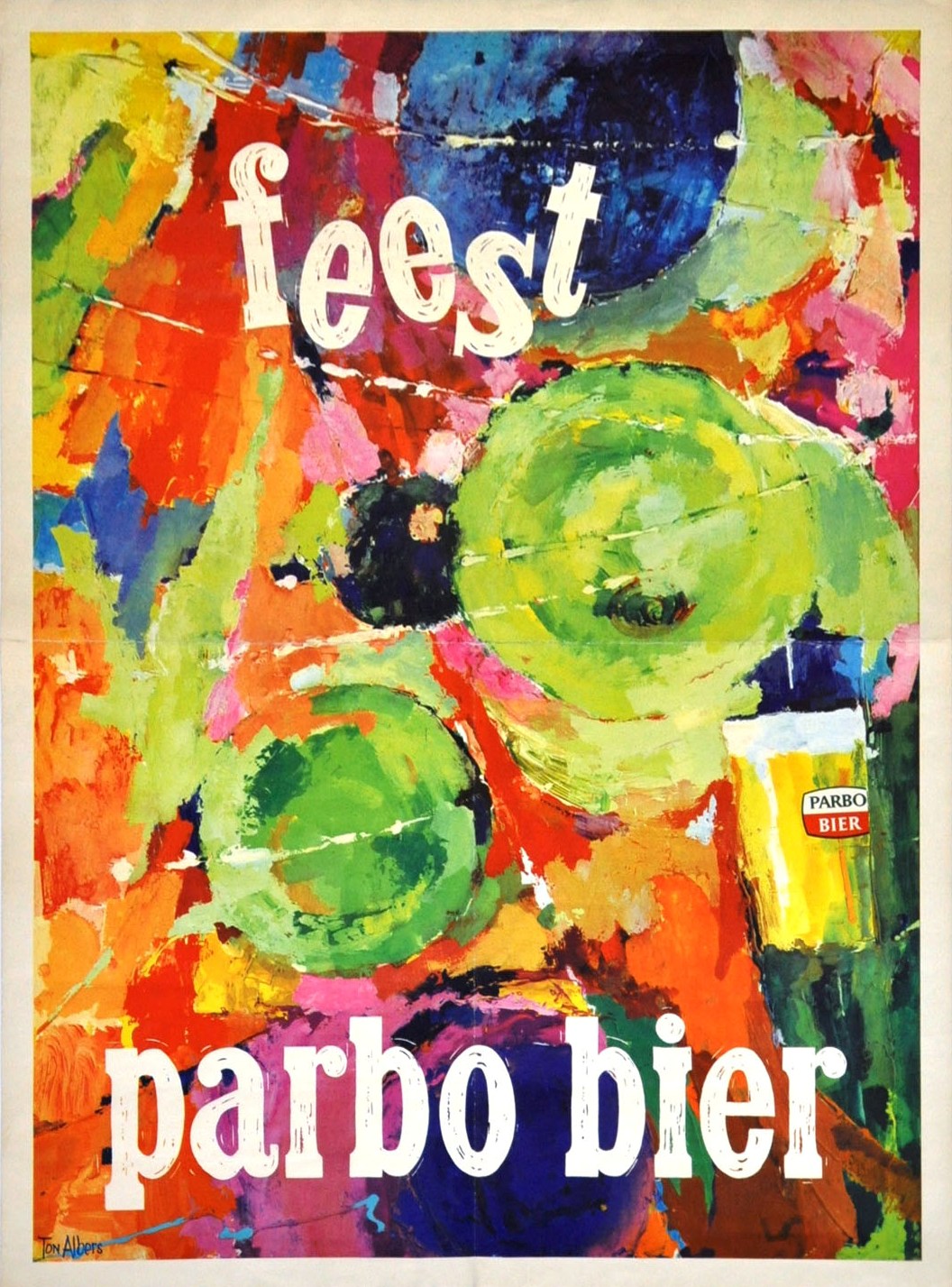 Ton Albers, Poster for Parbo, 1965 - 1970