INFO
Heineken CD storage crate
1996
Glass, metal, plastic, beer
h 11.7 x w 20 x d 15 cm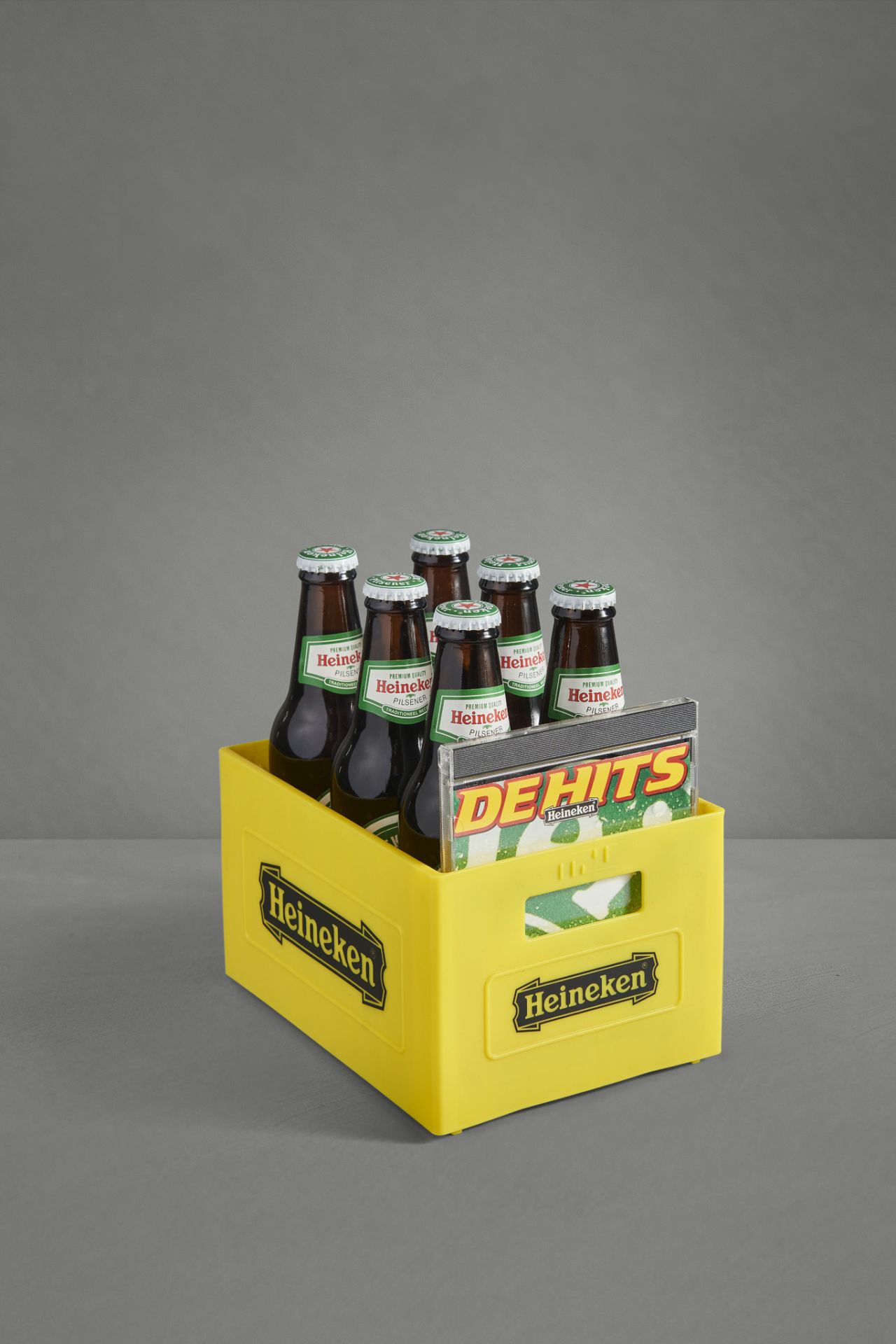 Four songs from four Heineken commercials are on The Heineken Hits CD sung by Bert Heerink. In the photograph you can see the CD (compact disc) packed in a yellow mini crate with six bottles of Heineken beer, together costing 9.95 guilders. The crate is a stackable CD storage rack.
Many people will remember their living room with its piles of CDs. And probably also how they let their collection gather dust since the introduction of Spotify, or how they disposed of it with a heavy heart.
Sold out
The CD crate was a Heineken spring promotion in 1996. Half a million crates were produced, which, due to enormous success, sold out in no time. The campaign was therefore repeated in the autumn. Key to this favourable outcome was the popularity of the songs used for the Heineken commercials. And, of course, Bert Heerink's performance of them.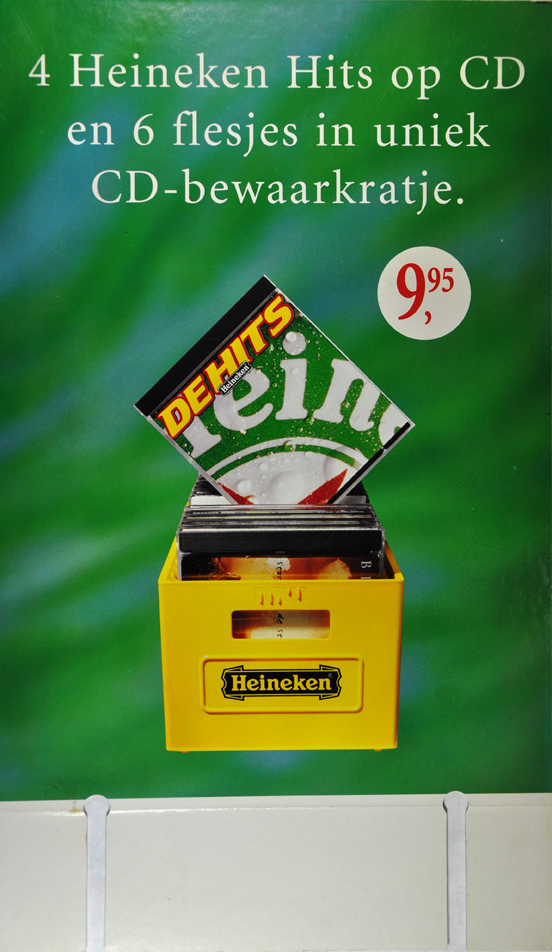 Heineken advertising poster '4 Heineken Hits on CD,' 1996
Vandenberg
At that time Heerink was mainly known as the singer of the Dutch hard rock band Vandenberg, founded in the early 1980s by guitarist Adrian 'Adje' Vandenberg. The band members went their separate ways in 1987, when Adje joined Whitesnake. Bert Heerink focused on Dutch rock and released a cover album in 1995, Storm After the Silence.
Cool, clear Heineken
It also includes his version of 'Brother Louie,' a song by Hot Chocolate, translated to 'Julie July.' The CD-single was so successful that Heineken included the song in a commercial with adapted text: 'Julie, Julie, Julie, July / Everything is possible and nothing has to be done / Cool, clear then it is good.' Heerink also sang the song 'De zon in de winter' (The Sun in the Winter), based on Europe's The Final Countdown, for a Heineken commercial, as well as 'Doe Wat Je Wil' (Time Stood Still) and 'Najaarszon' (Burning Heart).
On 26 January 2018, Bert Heerink received a six-time platinum award for selling over half a million copies of the Heineken hits from the mayor of Vlaardingen, where he performed with Jan Akkerman & band.