INFO
Two men at a terrace in front of a café with Heineken beer
1900 - 1920

Black-and-white photograph
h 14 x w 9 cm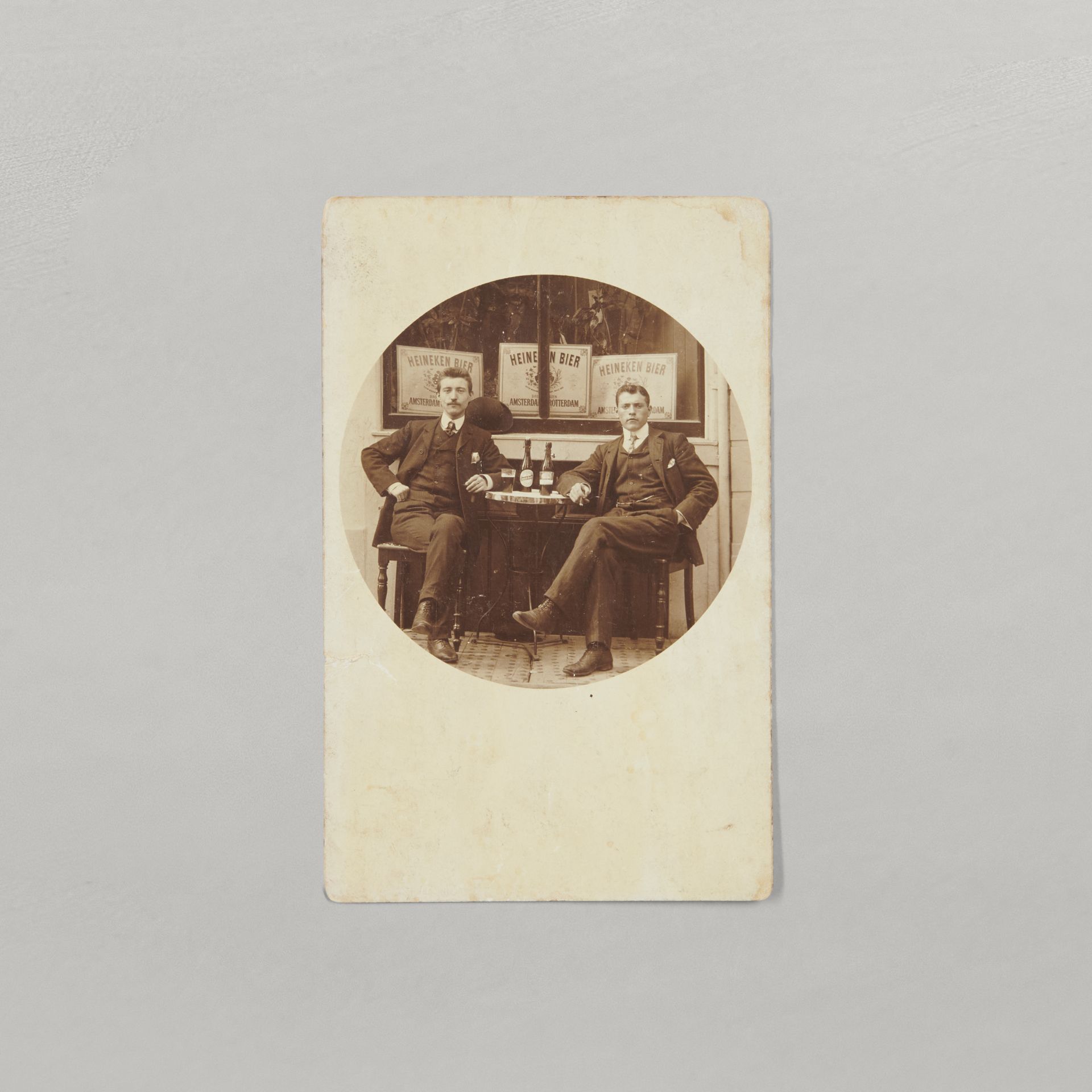 Two men dressed to the nines right up to their high white collars pose at a café table for Heineken's Beer. On the table we see the characteristic brown swing-top bottles from the early days. Behind the window are three billboards. The gentleman on the left leans on a walking stick with a silver knob, his bowler hat rests on the windowsill; the one on the right, with a razor-sharp side part, smokes a big cigar. Behold Heineken's target group in 1900.
The earliest advertisements by Heineken's management, led at the time by founder Gerard Adriaan Heineken in Amsterdam and brewmaster Wilhelm Feltmann in Rotterdam, focussed on the catering industry. Home consumption was then still far away: people went to pubs to drink a beer.
Elite image
Moreover, this was the German bottom-fermenting beer that HBM had been producing since 1873. As 'Bavarian,' it quickly became popular in the Netherlands after being introduced at trade exhibitions, among other places. Unlike the top-fermenting working-class beers, this 'gentleman's beer' was mainly drunk by distinguished gentlemen (and ladies). The Amsterdam grand cafés that served it had to contribute to the elitist image of the new drink of the gods, such as the chic Die Port van Cleve near Dam Square, founded by Gerard Adriaan Heineken himself.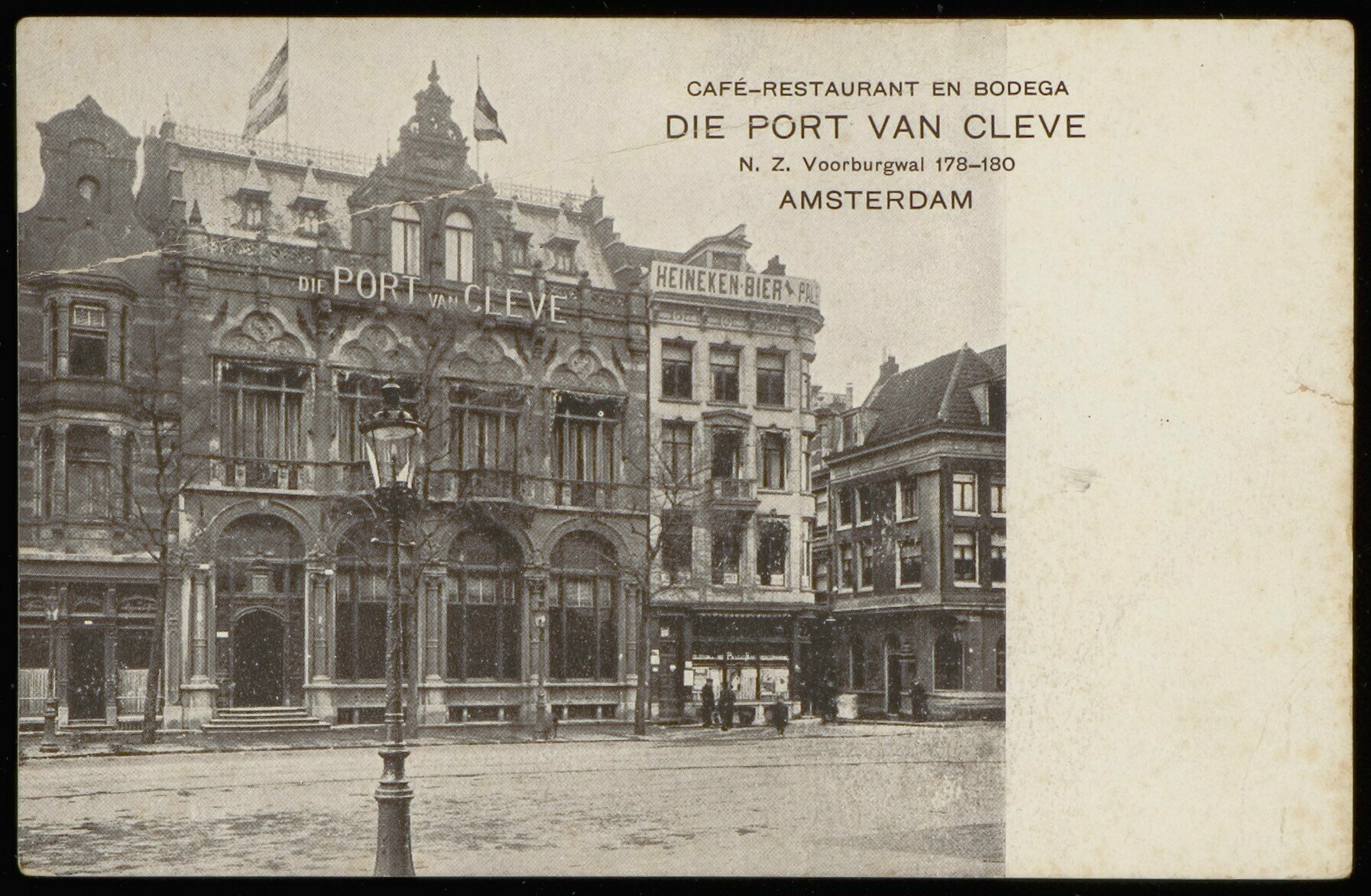 Advertising card of Die Port van Cleve, c. 1910. Note the Heineken advertisement on the right facade. Stadsarchief Amsterdam
Unnecessary
Initially, HBM's high-ranking members saw no point in advertising. 'Die beste Reklame is gutes Bier' (The best advertising is good beer) Brewmaster Feltmann was fond of saying – beer will sell itself. Nevertheless, the brewery had to inform its customers from time to time about new developments, such as the possibility of preserving beer and exporting it in bottles. This gave rise to the advertising card, with the Diplôme d'Honneur and the Grand Prix on the back, and on the beer label itself: awards for quality that Heineken won at the trade exhibitions in 1883 and 1889.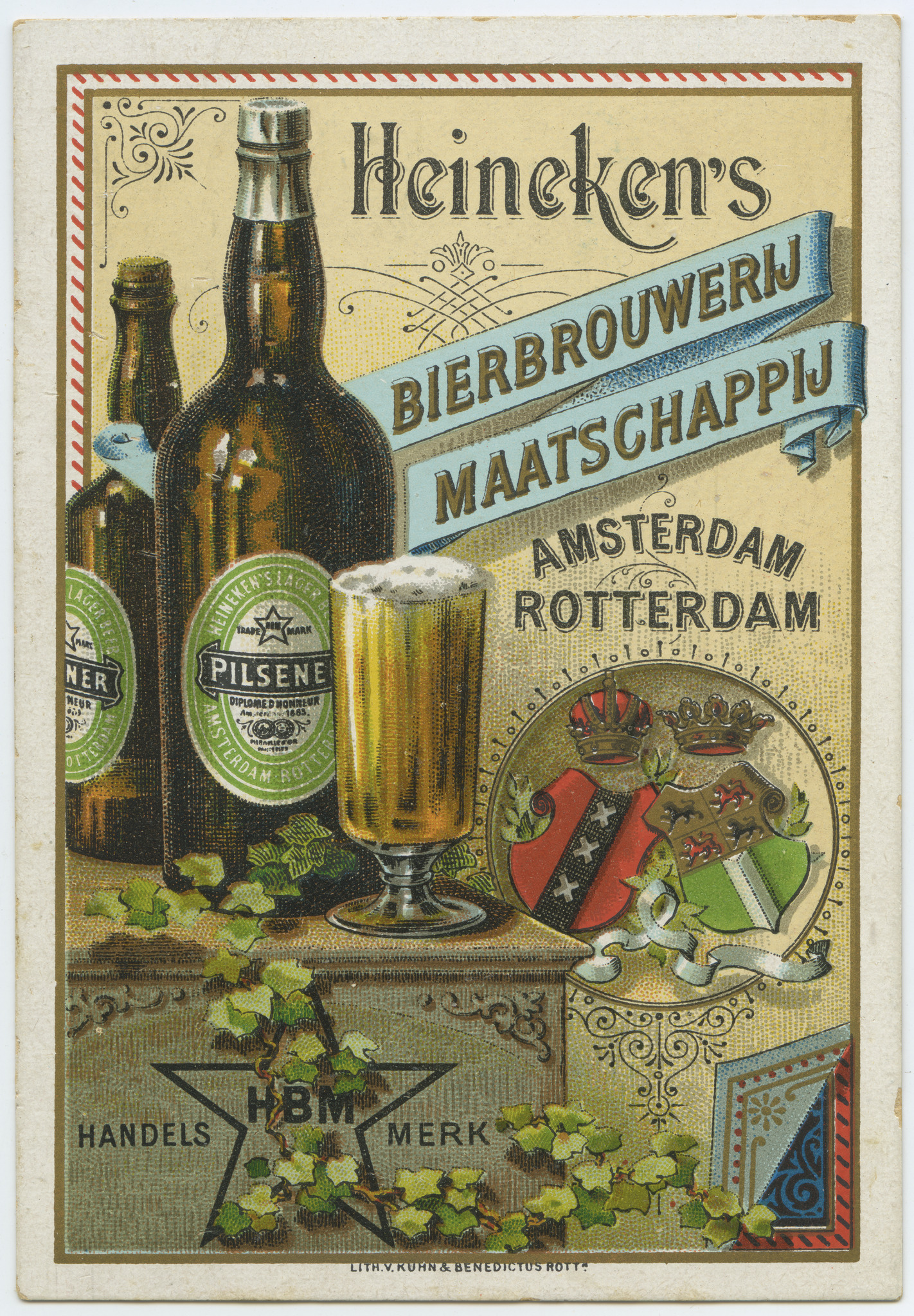 The oldest Heineken advertisement for hotel and catering entrepreneurs, Kühn & Benedictus, 1890-1900
Perception
Was the photograph of the two distinguished beer drinkers intended as an advertising card for Heineken distributors? That is unlikely. It was precisely the genteel, affluent public that needed to be convinced of the idea that drinking pilsner set them apart from the 'top-fermenting' crowd. However, Dutch consumer advertising was in its infancy around 1900, and no one had ever heard of advertisements with images. Picture postcards though were popular, at a time when people still communicated mainly by mail.
Perhaps the photograph was employed as a means of influencing the perception of the elite, just like the postcard of Die Port van Cleve. Ironically, nowadays it is exactly the other way around: if you want to stand out from the lager crowd, you order top-fermented specialty beer at hip café terrace.