INFO
N.V. Vereenigde Fotobureaux Amsterdam
Closure of Jacob van Campenstraat for the expansion of the Amsterdam Heineken Brewery
1930
black-and-white photograph
h 16 x w 22.5 cm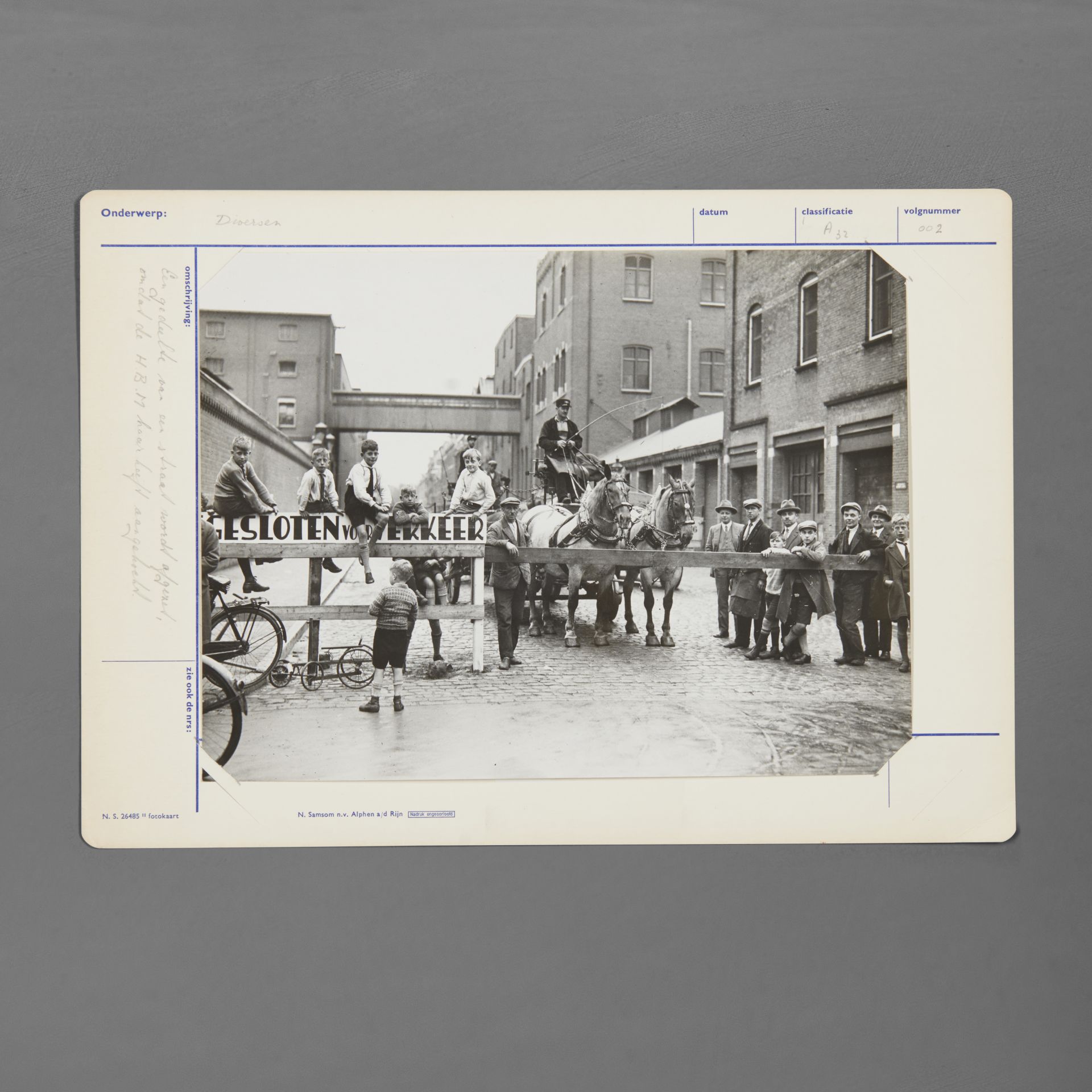 Amsterdam, 11 August 1930, a time of crisis. Despite the apparent heat, people on the street are fully clothed. Young boys are still in knee breeches with socks pulled up high and all men over 12 wear a hat or cap. At the wooden roadblock behind Heineken's Beer Brewery ('Closed to Traffic' in Amsterdam School lettering), a crowd has gathered around an empty Heineken beer cart with two horses.
The Eerste Jacob van Campenstraat between the Eerste Van der Helststraat and Ferdinand Bolstraat was permanently closed that day for the expansion of the brewery. After more than sixty years it was bursting at the seams. It had been built in 1867, when the view from Stadhouderskade still consisted of pastures and the occasional estate along Singelgracht .
Exchange proposal
In the meantime, the brewery had been completely surrounded by buildings in the 'Pijp,' a working-class district of high, narrow residential blocks. The company, which despite the crisis was still growing, had nowhere left to expand. Therefore, on 8 May, the City Council agreed to Director Henry Pierre Heineken 's exchange proposal: the land at the rear of the brewery for three Heineken properties, 99, 100 and 101 Damrak. The latter was Café De Bisschop, a landmark for years due to its ruinous state. However, the council did place some conditions on the brewer.
Conditions
For example, in the event of the company's closure the land acquired would revert to the municipality in return for payment of 1,000 guilders. The facades on Ferdinand Bolstraat and Stadhouderskade had to be further embellished. And, Heineken was to conceal the view from the public road of the footbridge over Van Campenstaat by building higher structures in Ferdinand Bolstraat and a gate in Van der Helststraat.
Renovation
In 1933, the year Heineken Rotterdam became the first beer exporter to set foot on American soil, a major renovation began at Heineken Amsterdam. The two wings of the brewery that had previously been linked by the footbridge seen in the photograph became a single complex.