INFO
Portrait of Gerard Adriaan Heineken (1841 - 1893)
Wegner & Mottu, c. 1890
gelatin silver print
h 53 x w 39.5 cm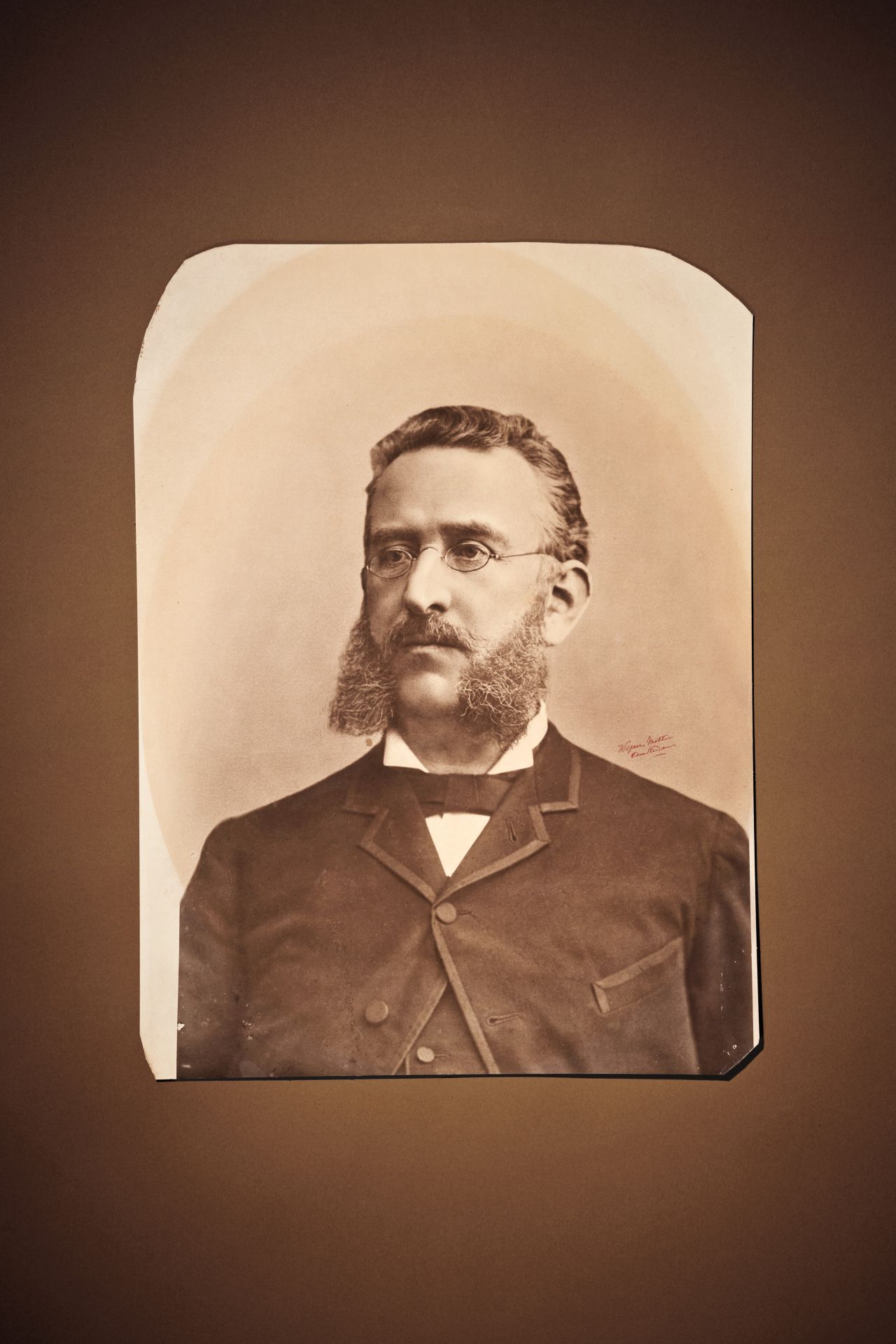 In the 19th century, the Amsterdam brewery De Hooiberg (Haystack) supplied top-fermented beer, such as the well-known 'Princessebier,' and experimented with the new German pilsner, though with little success. This pale lager requires a low brewing temperature (that only works in winter) and a double tax was levied on it.
Hence, when Gerard Heineken took over the brewery in 1864, he continued to produce top-fermenting beer, especially working-class beers such as ale and porter. However, he noticed that pilsner (lager beer) was becoming popular in the Netherlands – and so Heineken revisited this pale 'gentleman's beer.' He sent his colleagues abroad to investigate how it was made and in 1869 brought the German Wilhelm Feltmann, a skilled brewmaster, to Amsterdam. Heineken accepted that he was a tough nut to crack; he needed Feltmann to technically prepare his brewery for the future.
Resolutely in the lead
Notice the self-made brewer's look of determination in this photograph: this is a man who knew what he was doing. With his fashionable sideburns, he fit in perfectly with Amsterdam's Second Golden Age after 1850, during which the impoverished, run-down capital modernised at lightning speed into a metropolis à la Vienna and Paris. Heineken paved the way with his investments in new techniques and in cosmopolitan grand cafés – such as Die Port van Cleve (The Gate of Cleves), located in the old Hooiberg Brewery, an elegant venue where in 1879 he astonished Amsterdam's citizenry with ... electric lighting!
Socially engaged
Gerard Heineken was also modern in a social sense. As a director, he was remarkably humane to his staff. He himself worked as treasurer at the soup kitchen, and built affordable housing for workers. These Heineken cottages can still be seen in Amsterdam's Diamantbuurt (Diamond neighbourhood).